By DANA SMITH
Tribune Staff Reporter
dsmith@tribunemedia.net
WITH many children at risk of being marginalised, Urban Renewal has decided to partner with the Billy Graham International Association to reach out to young Bahamians.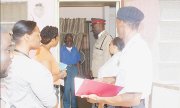 The three-month programme, which will kick-off this Saturday with a special church presentation, aims to develop "an enduring relationship for a safer and better Bahamas".
Urban Renewal co-chair Cynthia "Mother" Pratt was on hand yesterday to announce the start of the programme.
"We will host children in the Kemp Road and St James Road areas and the Market Street and Bain Town areas to gift presentations at the Powerhouse Deliverance Apostolic Ministry from 4pm to 5pm, and St James Road Baptist Church at 2pm to 3pm," she said.
"This will mark the initiation of a Youth Development Programme which spans 12 weeks."
All "Christian churches" and residents are invited to participate by bringing children between the ages of two and 14, to one of the locations.
"This kind of effort is in keeping with Urban Renewal's commitment to securing enthusiastic, meaningful, and transforming partnerships," Mrs Pratt said. "We welcome all and sundry to join us to expand our programmes."
Urban Renewal co-chair Algernon Allen dubbed children "the little darlings of the nation" and said there is "nothing more precious" that ensuring children become productive and reach their full potential.
"We believe that in the traditional areas of our nation, particularly, many of our children are at risk. They are at risk of being marginalised, marginalised through no fault of their own, marginalised by circumstances – sometimes birth," he said.
"We must do all we can through the Urban Renewal effort, through the invitation of powerful social partnerships with our churches, our businesses and local communities, to embrace, to nurture, to uplift the little darlings out of the potential of them being marginalised, of them being left behind."
Pastor Glenn Rolle, of the Billy Graham International Association, also spoke. He said the association is "particularly delighted" to be involved Saturday's programme.
"(The association) wants to ensure that every child within the urban community – particularly those who are disenfranchised – are afforded the opportunity to be touched, afforded the opportunity to be ministered to, by way of a gift," he said.
"By extension, it gives churches within the respective communities an opportunity to have a lifetime impact particularly on children. This presents us a wonderful opportunity to change the face of our nation."