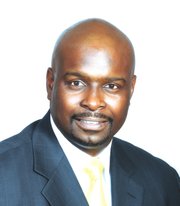 REDUCING the high cost of doing business and managing household expenses is a priority of the government, Minister for the Environment and Housing Kendred Dorsett said.
Mr Dorsett addressed the burden of electricity costs on the Bahamian people as he lent his support to the resolution for refinancing of BEC's existing obligations.
The effort will raise $250,000,000 million from a consortium of domestic and international lenders, led by CIBC First Caribbean International Bank.
"Funding is required by BEC to rehabilitate, expand and improve the existing plant," he said.
Mr Dorsett said it is generally understood that the Bahamas faces a serious challenge as a result of the high cost of electricity, the resulting hardship to families and the negative impact on the country's business competitiveness.
He said dramatically rising fuel costs have effectively reduced BEC's budgets for maintenance of existing equipment, and all but eliminated funding reserves for planned future expansion, for both growth and replacement of ageing equipment and systems.
This in turn has forced extensive use of low efficiency, high cost gas turbines at the Baillou Hills facility and further purchases of additional gas turbines that, in the short term, further exacerbate the problems and cost to the consumers because of fuel consumption.
Minister Dorsett said as the Bahamas possesses no known, quantifiable, easily-exploited reserves of fossil fuels and depends on imported sources to meet its needs, its energy security level is extremely low.
"The country, and its service-based economy, is particularly vulnerable to global economic forces that control the cost and availability of fossil fuels. Reducing the cost of electricity is a national challenge. The main contributor to the high cost of electricity is the cost of oil on the international market," he said.
Mr Dorsett said the Ministry of the Environment and Housing is committed to reducing the country's dependence on fossil fuels, and aims to increase use of renewable energy sources, apply waste-to-energy technologies and promote energy efficiency and conservation measures.
"For a number of years BEC has charged a base price of 11 cents per kilowatt hours (kWh) for electricity with the cost of fuel added on, producing a final charge to residential consumers in the range of 40 cents per kWh. The anticipation is that, ultimately, with solar generated power, electricity could be provided in the range of 10 to 15 cents per kWh before distribution management and transmission costs are imputed," he said.
Mr Dorsett called for legal reform to support the process of transition to a new energy matrix.
He said the Ministry of the Environment and Housing and the Ministry of Works and Urban Development are working together with the Attorney General's Office to remove the legal impediments to self-generation of electricity.
"Cabinet is considering the appointment of an Energy Task Force with an aggressive mandate to review all matters related to the application of renewable energy technologies to assist BEC in satisfying the electricity needs of our heterogeneous populations from Grand Bahama to Inagua and from Bimini to San Salvador," he said. "A report will be presented to Cabinet with recommendations for a National Renewable Energy Plan with a list of potential renewable energy projects for the pursuit of alternative energy sources of fuel, including liquified natural gas (LNG) and compressed natural gas (CNG). This development model anticipates that BEC will enter into power purchase agreements with licensed third party providers, who would receive a guaranteed feed-in tariff for several years."