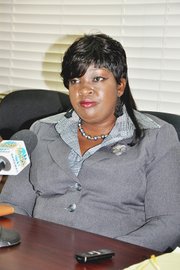 URBAN Renewal workers in Grand Bahama have been ordered to stop wearing work uniforms displaying PLP colours and reminded that they work on behalf of all Bahamians.
In a January 24 letter obtained by The Tribune, Urban Renewal coordinator Michelle Reckley was told that the programme's co-chair, former Deputy Prime Minister Cynthia Pratt, was "disturbed" to see civilian officers dressed in yellow on the job.
"She reminded the civilians that the Urban Renewal Commission, as per the Prime Minister's directive, is a-political. It represents no political party, but all Bahamians," said the letter, which was signed Diana D Lightbourne, Permanent Secretary, Urban Renewal Commission/Cabinet office.
The letter also conveyed Mrs Pratt's disappointment at not being able to meet with Mrs Reckley during a visit to Grand Bahama.
"She understood that you were in Abaco campaigning for the "Yes" vote," it said.
The letter also noted that in accordance with Prime Minister Christie's wishes, the police are in charge of Urban Renewal in Grand Bahama, and emphasised that there is "no Urban Renewal without the police."
While in Grand Bahama, Mrs Pratt assured the press that Mrs Reckley and the other civilians "will work along with the police", it said.
The letter said: "Mother Pratt directed that you accommodate the officer-in-charge of Urban Renewal, Inspector Rolle, in the Urban Renewal office. She directed that you distribute the nine new computers in Urban Renewal to the Urban Renewal centres where there is a dire need for computers.
"The directive was also given for the lead police officer in each Urban Renewal Centre to take charge as centre manager and be given the keys and FULL access to the centre."
It added that from now on, all staff at each centre – both civilian and police – must report to and communicate through the centre manager, including when applying for leave.
"The centre manager will make all necessary recommendations to Inspector Rolle, who will approve, disapprove, delegate or redirect," the letter said.
Mrs Reckley first made headlines as she defended her suitability for the job after opponents claimed the former PLP organiser has no relevant qualifications and last worked as a school caterer.
Mrs Reckley, the former Assistant Secretary General for the PLP in Grand Bahama said she was qualified because she has "lived" the problems that Urban Renewal was set up to address.
The FNM had claimed her appointment was purely political, saying they believe Mrs Reckley does not have the appropriate professional background or expertise to manage several Urban Renewal centres and a staff that includes police officers and social workers.
Mrs Reckley said: "What makes me qualified is that I come from urban. I have lived it and who else can appreciate Urban Renewal more than someone who has lived it?"
The Tribune was unable to contact Mrs Reckley for comment over the weekend.