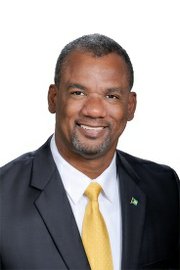 CONCERNED Bahamians have called for a further probe into whether Education Minister Jerome Fitzgerald, who was acting as Attorney General, performed in accordance with the law in discontinuing a firearms case against a married couple.
Responding to questions from The Tribune on those concerns, Sean McWeeney said that Mr Fitzgerald did not perform out of line with the law.
The surname of the defendants - George and Janice - was misspelled until recently as Hayes. It has been revealed that the couple's last name is Hayles.
Mr McWeeney said: "Acting as Attorney General, his powers are no greater or no lesser. But you have to remember and distinguish between the Attorney General and the person who holds the office.
"So that's not talking about Allyson Maynard-Gibson or Jerome Fitzgerald or any other individual. It's talking about the holder of the office. And the person who is the acting Attorney General is holding the office of Attorney General. Therefore that applies to that person during the period he is acting.
"It's for continuity. Otherwise, for example, if the Attorney General goes away you need continuity so that is the reason you have persons acting."  
The Hayles were each accused of having a firearm and ammunition for the weapon back in 2010, but the case was dropped on December 28 after Mr Fitzgerald determined that it was appropriate to drop the prosecution. 
As it stands none of the Legal Affairs Ministers wants to claim responsibility for dropping the charges. Both have said they were out of town.
In December, Attorney General Allyson Maynard-Gibson said she was absent. Not long after Minister of State for Legal Affairs Damian Gomez said he was attending the World Intellectual Property Organization Conference in Trinidad and Tobago.
The conference met from November 25 to 28.
The FNM has also questioned why Mr Fitzgerald acted as the Attorney General.
He has said, following a review of the file, that he was satisfied that it was appropriate to discontinue the prosecution. He has refused further comment.