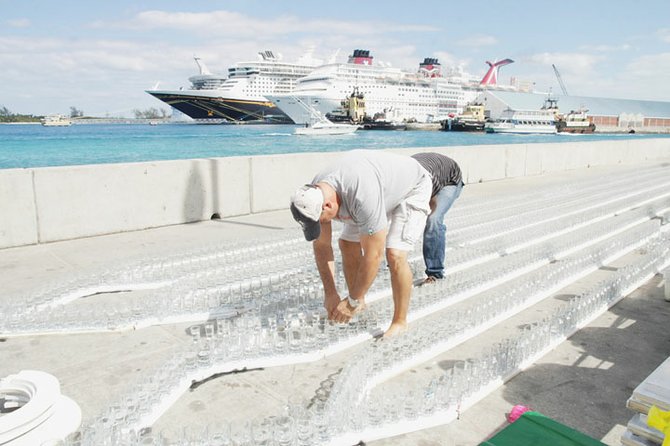 By SANCHESKA BROWN
Tribune Staff Reporter
sbrown@tribunemedia.net
POPULAR restaurant Señor Frogs will write its name and the Bahamas' in the History books on Thursday by attempting to break a Guinness World Record by toppling the Longest Ever Domino Drop Shot in the world.
Chester Williamson, partner at the well known party spot, said the restaurant is attempting to set a record in
celebration of its tenth year anniversary in New Providence.
The current record was set on December 7, 2012 by Zheng Wen in Beijing, China, who successfully toppled 2,013 shots.
There was also an unofficial record set in Australia, not sanctioned by Guinness, of 3024 shots.
To avoid any confusion, Señor Frogs plans to beat both by toppling more than 4,000 shots – a chain that if stretched out in a line, would be longer than three football fields.
The attempt will be officially accredited by Guinness World Records, and will take place along the Prince George Wharf, where tourists and locals can gather to watch and celebrate history being made.
A special-made track, with thousands of half-full beer mugs, will wind its way along Nassau Harbour.
If all goes according to plan, when the first shot is pushed into the first mug, it will set off a chain reaction of cascading glasses and a record number of drop shots.
Minister of Tourism Obie Wilchcombe will topple the first shot glass.
The idea, according to Señor Frogs manager Arturo Salas, was to do something spectacular to commemorate the relationship between the franchise and the Bahamas.
"Ten years is a great anniversary for us," he said. "We are very thankful to the people of the Bahamas for the way we have been welcomed here. We have made many friends and valued customers over the last decade and wanted to do something special.
We want this record to last as a long time, as a monument to the great bond between Señor Frogs and the Bahamian people."
The public is invited to the record breaking festivities at 3pm on Thursday.