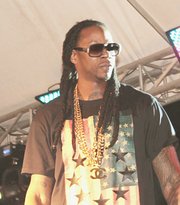 NASSAUVIANS travelled to Grand Bahama to enjoy international rapper 2 Chainz live in concert at Club Amnesia on Saturday night.
Sasha Dunn of the entertainment company the Vendetta Group said form the moment he entered the concert, "electricity was in the air and people were hype".
"Very quickly the venue got filled up and very enthusiastic hip-hop fans packed each and every sky box section. After the DJ's had set the pace for party, the beautiful hostess of the night, Ms Alexis, introduced the first act, Ball Greezy," said Sasha.
He said his performance was energy filled and very smooth with his interludes.
"Next to hit the stage, was the man of the hour himself Mr "Birthday Song" 2 Chainz. When the six foot emcee hit centre stage, the entire venue exploded with an eruption of screams, shouts and applause," said Sasha.
2 Chainz rattled through hit after hit: Riot, No Lie, Bands Will Make Her Dance and other songs.
"After about an hour of showmanship, 2 Chainz showed his love to the crowd and made his way off the stage. MVP Entertainment most definitely made a home-run with this powerful concert to start the year off," said Sasha.