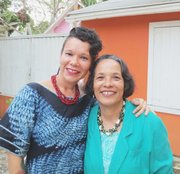 By JEFFARAH GIBSON
Tribune Features Writer
STORIES THAT are difficult to talk about and digest are retold through art and poetry in a new book by Bahamian author Angelique Nixon.
"Saltwater Healing", an art and poetry chapbook published by Poinciana Paper Press, was launched on Sunday at Doongalik Studios & Art Gallery.
It includes digital reproductions of literary artwork and selections of poetry by Ms Nixon.
The limited edition, hand-bound book has a letterpress cover, all characteristic styles of publishing house Poinciana Paper Press. The artwork weaves mythic stories of home and childhood using the Bahamian land/seascape through poetry and collage.
"My vision for this work grew out of the way I engage with home as a black mixed-race queer Bahamian woman living abroad. It grew out of troubled women's stories (herstories) too often left out of our history books. It grew out of messiness—the stuff we do not often speak about: poverty, domestic violence, drug abuse, disease, mental health, sexual trauma, sexuality, race and colour, class and privilege, and environmental crisis," Ms Nixon told Tribune Arts.
"It grew out of my desire to speak and share hard stories through a visual medium, using a storytelling poetic form and collage of materials and found objects. And it grew out of my visits home over the years to reconnect with home-space, and this not only involved spending time with my loved ones, but also going to the sea, laying in sand, breathing in salty air, and soaking in the ocean's healing embrace. It grew out of all the stories my grandmother told me as a young child - many of which centred on the healing powers of our land and seascape. It grew out of me depending on my visits for rejuvenation, but also experiencing the difficult memories of my childhood."
Ms Nixon calls her work "A Myth Memoir" because it is a blend of stories, experiences and mythical elements. The book starts with the adult voice of Nixon telling stories and transforms into a child's voice, re-telling and re-imagining a childhood through the land and seascape. Some of the pages start with stories, while others start with photographs and scraps of material, said Ms Nixon.
"I went back and forth with inspiration from the material (cotton, fabric, seeds, dried plants and seeds, straw plaits, and sand) and with the stories that emerged as I wrote and created each page – interplay between visual and text. I used Androsia fabric and plaited straw specifically because of how we use these materials in cultural production and for tourism. This vision expanded as I worked with the fabric and straw as a reflection of the obvious to tell what is not so obvious – the hidden from view, the unspoken, the silenced," she said.
Ms Nixon said it meant a lot for her first book to be published by the local press which specializes in turning Caribbean stories to limited edition and hand-made works of art.
Ms Nixon is a writer, scholar, teacher, community worker, and poet. She earned her Ph.D. in English specialising in Caribbean literature and culture at the University of Florida in 2008. She is currently a professor in the Department of English and Creative Writing at Susquehanna University in Selinsgrove, Pennsylvania.