By DANA SMITH
Tribune Staff Reporter
dsmith@tribunemedia.net
A MAJOR professional golf tournament set to kick off on Paradise Island in May will showcase the country on a global scale, Tourism Minister Obie Wilchcome said yesterday.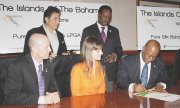 He was at the Atlantis Coral Towers for the ceremonial signing of the Pure Silk-Bahamas LPGA Classic, which will see 144 players from around the world competing at The One&Only Ocean Club Golf Course over four days.
LPGA tournaments average around 50,000 spectators, according to chief marketing officer Jon Podany, and the event is predicated to attract a "tremendous amount of supporters flying in to the Bahamas" and 4,000 room bookings for the country's hotels, according to Mr Wilchcombe.
"We want this to become one of the most significant signature events in our Commonwealth," Mr Wilchcombe said.
"I think you would appreciate that we have golf courses throughout the Bahamas but we are seeking to reintroduce the Bahamas as a wonderful place for sports tourism and to appeal to the sector of individuals, globally, who participate in the game of golf."
Mr Wilchome said he's "delighted" by the predicted worldwide attention the event will draw, noting LPGA tours have a broadcast audience of around 240 million in 171 countries.
"It connects the islands of the Bahamas to a brand of growing LPGA players and those who follow it," he said.
"It gives the islands of the Bahamas the benefit of tremendous marketing and of course you know, the Bahamas having come out of a recession, we're doing our best to ensure the Bahamas becomes again the premier warm-weather destination in the entire world.
"We believe that this opens new avenues and new doors for our country and we invite all the Bahamian people to understand, again, that when we have persons on our shores we are to ensure that they see who we are and understand our tremendous hospitality and our love for people. When Jon (Podany) and the members of the LPGA leave this country they will certainly know why we always say that it's better in the Bahamas."
Mr Podany said: "This is very much a global tour. Not only will this tournament be broadcast around the world, but we have websites in Chinese language, in Korean language, in Japanese language and our players come from around the world," he said.
"Right now the top 20 ranked players in the world represent nine different countries, so it truly is a melting pot of the world and you're going to see people from Korea and Taiwan and Japan and Canada and the US and Europe – you're going to see people from all over the world coming to your great island."
Mr Wilchcombe added the Ministry will begin to market the event around the world because "while the venue is here (Atlantis), we have other rooms on the island".