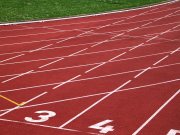 By BRENT STUBBS
Senior Sports Reporter
bstubbs@tribunemedia.net
WHILE he carries out his responsibilities as an assistant coach at the University of Georgia, George Cleare is also instructing a group of elite athletes in his High Performance Management Team in Athens, Georgia.
HPMT, which was started here before Cleare took up the coaching job at the UG three years ago, features Olympic quarter-miler Andrae Williams from Grand Bahama and sprinter Amara Jones, along with hurdlers Krystal Bodie and Tiavannia Thompson and quarter-milers Cottrell Martin and Lenece Clarke.
Additionally, Sandro Viana, a Brazilian Olympian and World Championship 4x100m relay member and Bermuda's 800m national record holder Aaron Evans are both a part of the HPMT connection.
While there is still a local branch still intact in New Providence and Grand Bahama, headed by Dwight Marshall and Dwayne Jennings, Cleare said he's delighted to be able to continue to help develop the elite athletes in the United States.
"This is something that has been in existence for some three and a half years," Cleare said.
"People are now just starting to see the big picture with where we are trying to go with this. But it's still a work in progress."
Although his first obligation is to the UG where he's helping to coach Bahamian quarter-milers Shaunae Miller and Rashad Brown from Grand Bahama and sprinter Tyia Gaither, Cleare said he have some high expectations for the elite athletes.
"We're going in the right direction," Cleare said.
"They won't really be competing until the outdoors. The goal is to get them ready to compete at the (Bahamas Association of Athletic Associations) Nationals (in June at the new Thomas A Robinson Track and Field Stadium) and eventually the (IAAF) World Championships (in Moscow, Russia in August).
"They will probably open up at our home meet where we intend to invite a number of other international athletes, including some of those who are home, to come and compete against the ones we have here at HPMT. We should also have the collegiate girls compete in that meet as well. So it should be a very competitive one to showcase everybody."
The UG home meet is scheduled for the weekend of March 15-16 when the Georgia Relays/Alumni Meet will take place.
So far, only Miller and Gaither, a freshman and sophomore respectively, have competed for the UG Bulldogs. Brown, who ended the year with an injury, is still recuperating. It's not known exactly when she will compete in her first meet to start her freshman year.
The Bulldogs will be back in action next weekend at the Akron Invitational in Akron, Ohio before they get ready for the Southeast Conference in Fayetteville, Arkansas over the weekend of February 23-24. The NCAA Indoor Championships will also be in Fayetteville from March 8-9.