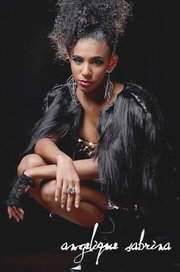 By ALESHA CADET
Tribune Features Reporter
acadet@tribunemedia.net
IT SEEMS like just yesterday when Angelique Sabrina stepped onto the music scene with her singles "13" and "Speakerbox." Now, Angelique is a well known teen phenomenon, gaining play in the Bahamas and internationally. Her music video for the single "Pull Up" premiered exclusively on MTV Buzzworthy last May.
And this year she is not letting up. She recently released a fresh single "Stop Sign" to empower people and make them dance.
"When you sing the lyrics to yourself, you're telling yourself that when you walk into a room, everyone is gonna treat you like a stop sign. You're gonna make the world run on your own time," said Angelique.
"I was writing in the studio with a Bahamian writer, Julien Believe, and he really loved the sound of those two words. So we took the whole writing process from there," said Angelique.
Angelique's song writing skills have caught the attention of seasoned veterans over the years, and has given her the opportunity to co-write with Bahamian and international singers/songwriters.
She said she is determined to continue to develop her career in music and she encourages her peers to "always do what you love, follow your dreams, create your own resources, develop a support system and ask for guidance because that is how you will get ahead in life."
Angelique said she visited New York last week Saturday to shoot the music video for " top Sign" with international artists Shontelle, Rockwilder and a few other surprise artists.
"The video is gonna be kickin' and so much fun. I can't wait for everyone to see it," said Angelique.
"The song actually has been playing on the radio stations in the Bahamas and in the United States already. It is also on iTunes if people want to download it. But the official release is going to be with the music video," said Angelique.
Angelique said she is certain her new single is going to take over the music world, as it is a " ridiculously catchy" song. When people see the music video, she said they are going to be blown away.
During FashArt 2012, Angelique won Stylezine Magazine's People Choice Entertainment Award for her " Pull Up" single. She hopes "Stop Sign" will allow her to garner the same kind of recognition.
"It was amazing winning the award. I love putting hard work behind everything I do and to see the response from the people is just overwhelming," she said.
Last year, Angelique also reached a career milestone when she performed "Measure of A Man", a song she wrote for Sir Sydney Poitier, during the free Bahamian concert.
Angelique said this year is going to be an amazing one for her and a her career. She said she is currently working several new songs and music videos.
"I will also be doing a lot more performances and my album will be released this year. So stay tuned," she said.