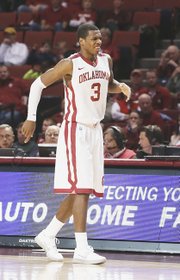 by RENALDO DORSETT
Sports Reporter
rdorsett@tribunemedia.net
A fantastic freshman season from the Oklahoma Sooners' Buddy Hield has been cut short and remains in jeopardy after the freshman guard suffered a broken bone in his foot in Monday night's win over TCU.
Oklahoma improved to 16-7, 7-4 in the Big 12 which placed them fourth in the conference, but Hield sustained a fractured fifth metatarsal in his right foot.
Hield underwent surgery Tuesday and is expected to miss the next 4-6 weeks.
Hield finished with eight points, two assists and two steals in 20 minutes before the injury.
Hield averages 8.6 points, 4.5 rebounds and two assists per game for the Sooners.
He is the Sooners' fourth leading scorer, third leading rebounder and steals leader.
The Big 12 tournament is scheduled to begin March 13th and the Sooners will need to contend to bolster their NCAA tournament resume, if not win the tournament outright to earn an automatic bid.
After beginning the season as a key reserve, Hield worked his way into the starting lineup in mid December and has helped revitalise the Sooners program into Big 12 contenders.
The Sooners are currently enjoying a two-game win streak following their signature win of the season, a 72-66 win over then No 5 Kansas.
Their next game against a ranked opponent comes Saturday, February 16th against No 17 Oklahoma State.
Hield stepped awkwardly on a TCU defender's foot while chasing a loose ball and had to be helped toward the sidelines.
Just hours after his surgery, he was present at the Sooners practice session, continuing to be a charismatic leader for the young Sooners squad.
Following the injury, Hield reached out to his fans on social media via Twitter.
He tweeted from his Twitter handle @buddyhield yesterday:
"S/O to everyone who has been praying for me, really appreciated you guys I'll be back on the court faster than you know #BoomerSooner 1Love"
"Always Thank God for everything he has done for me bc this could of gotten worst…Everything is in God hands"
Hield has scored double figures in six games this season and finished twice in double figure rebounds.
In just the second game of his NCAA career, Hield set his career high in scoring with 17 in the Sooners' 63-59 win over the Texas-Arlington Mavericks in November.
The Grand Bahama native and former Jack Hayward Wildcat shot 6-10 from the field, 2-4 from beyond the arch, 3-4 from the free throw line and added four rebounds, in just 19 minutes.
Hield scored 11 straight points during the Sooners' 22-1 run, which helped them lead by as many as 13 as they took a 38-28 lead at the half.
He scored all of his 17 points in the first half.
He finished with nine points and 11 rebounds against SF Austin, posted 15 points four rebounds and five assists against Oklahoma State and 16 points seven rebounds against Texas Tech.