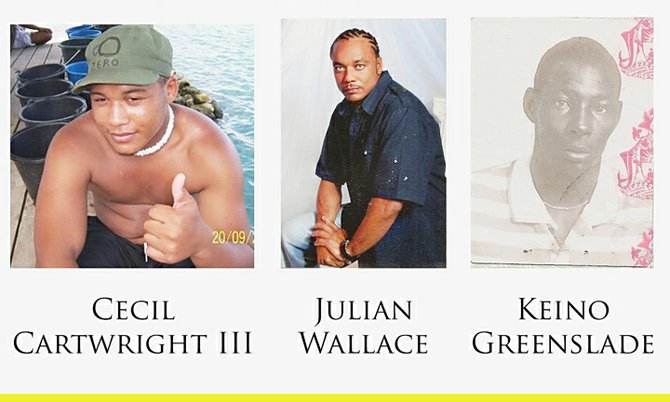 By SANCHESKA BROWN
Tribune Staff Reporter
sbrown@tribunemedia.net
JULIAN WALLACE was thankful to be alive, after being stranded at sea for almost a week, with nothing but hope and prayers keeping him and his two shipmates alive.
Mr Wallace, who was the captain, left New Providence on Friday with Cecil Cartwright and Keno Greenslade for Ragged Island. However, shortly after setting sail, the engine failed.
After drifting for five days the men were finally rescued by a Long Island fisherman, who recognised them from a news story and radioed the mail boat to assist them.
Mr Wallace said despite several mishaps and being lost at sea for such a long time, they never gave up hope and always knew that they would make it home.
"We left Nassau around mid-day on Friday. We went trough the Exuma Cays and stopped off at Staniel Cay. Then we went by Duck Cay by the Ragged Island chain but around 7:30pm we started experiencing engine problems and then the engine went dead in the water. We were drifting so we decided to build a sail out of a canvas we had on the boat. We sailed another 10 to 15 miles south in the Ragged Island Cays and anchored on Seal Cay," he said.
"Then the weather changed on us and our anchor dragged about nine miles west. So we had quite the task trying to get the boat back on route. We knew once we got to the shipping lane, two miles off of Seals Cay, we would be okay. Next thing we knew, we saw some fishermen, they said they heard our story on the news and they radioed the mailboat and they picked us up and took us to Ragged Island. The whole time we could see helicopters looking for us, but we had no flares or anything so we had no way of contacting them, but we never gave up. Not for a second did we think we were going to die. We were determined to get home and we did."
The men were taken to the local clinic in Ragged Island and given a clean bill of health. They are expected to be flown into Nassau today.
Royal Bahamas Defence Force Public Relations Officer, Lt Origin Deleveaux said the RBDF, with Bahamas Air and Sea Rescue and Operations Bahamas Turks and Caicos, were searching tirelessly for the men since Saturday morning.
"It was not an easy task," he said. "Trying to find such a small vessel in such a large area is quite difficult. We utilized all our air and sea vessels along with the Coast Guard and BASRA. We tried but could not locate them, it was like finding a needle in a haystack, we are talking about 100,000 sq miles of water."
The Royal Bahamas Defence Force is cautioning persons venturing out to sea to ensure that they are fully prepared for the journey and that they pay close attention to weather advisories from the Meteorological Office.