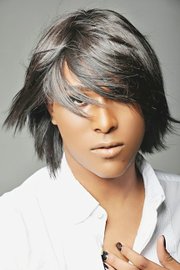 By CARA BETHEL
cbrennen@tribunemedia.net
Centino Kemp's new book, "First Lady" delves into a world to which few people are privy – the darker side of the men and women who consider themselves shepherds of the religious flock.
It is a peek into the life of the young Bahamian who found himself at the centre of a scandal involving Bishop Eddie Long, senior pastor of one of the Southern United States' largest Baptist churches, an experience he says that was so traumatic, he became suicidal and still questions his faith and organised religion.
Centino was the fifth accuser in the Bishop Long case.
On September 21 and 22, 2010, three men – Maurice Robinson, Anthony Flagg and Jamal Parris – filed separate lawsuits in DeKalb County Superior Court alleging that Bishop Long used his pastoral influence to coerce them into a sexual relationship with him. On September 24, Spencer LeGrande, a member of a New Birth satellite church in Charlotte, North Carolina, filed a similar suit, making him the fourth man to file a lawsuit claiming sexual misconduct by the bishop.
Bishop Long denied the allegations and in a prepared statement, said: "I have devoted my life to helping others and these false allegations hurt me deeply. But my faith is strong and the truth will emerge. All I ask for is your patience as we continue to categorically deny each and every one of these ugly charges."
In May, 2011, Bishop Long settled out of court with the four men.
In a statement posted on the website of Bishop Long's church, officials said: "This decision was made to bring closure to this matter and to allow us to move forward with the plans God has for this ministry."
US media reported in July that year that a fifth accuser received settlement money from a lawsuit filed against Bishop Long by four other men.
Then in September, Centino was revealed as the fifth accuser.
In the tell-all-book, which was released on Valentine's Day, Centino speaks about that time in his life. The book's title, "First Lady", was the nickname Centino said he was given.
Centino told The Big T that there were a lot of "ungodly things" that occurred when he was affiliated with the church, but said that though he wanted to leave, he was unable to release himself from the spell the pastor had on him.
"A lot of ungodly things went on from the first time I arrived at that church when I was 16 and sex was the last thing on my mind, but my life was changed in less than 24 hours."
He admitted that in the beginning he was drawn in by the lifestyle he was offered.
"We lived a good life and I was blessed."
But Centino said as time went on he realised that he needed to remove himself from the corruption which he alleges was rampant in the church.
"I tried my best to walk away, (but) my heart did not want me to let go. But as time went on I had to stop acting like a child and put a man's head on my body and take over my life.
"I have a nephew and a niece and I have to stand strong for them. What happened to me I can't let happen to them or any other young man from the Bahamas. I made up my mind that I would not let history repeat itself. When I was leaving, I was at the lowest point in my life including suicidal thoughts and I never want to go there again. I just had too much going on. Writing this book was therapy for me. It is the pages of my diary and it was very healing to write it. To this very day, I can't read it because it's too deep and filled with too many emotions."
Going public was made easier by the support he received from his family, Centino said.
"After I got myself together I told them everything. Before the media knew, they knew what had happened to me so it was not a shock, and my family is very supportive of me and we are very close to each other, they are my rock."
Centino said that while there has been some negative reaction, he believes "such is life". He added that he has been shocked by the support that he received while in Nassau to launch his book.
"They have my back and I love them for that. That is why I launched it here. I wanted to show them that I may live in the US but I am still that hard-heel island boy and I know where I come from and will never forget."
Now that he has put his ordeal behind him, Centino said that he is ready to move on with his life.
"I have not heard from any one affiliated with the church officially and I really don't care to hear anything from them if it don't start with 'sorry for messing up your life,' I don't want anything from them. What's done is done and I have moved on."
And he said that his faith, which had decreased, is slowly returning.
"I am still struggling with the idea of joining a church. For many years I had no faith, but I can say now that there is a God and in some funny way I think he has used me because I am just one man and I am fighting a powerful army and I am still alive. But I do not trust the church. I know that I cannot beat everyone with the stick of one man, but I have seen too many of them doing the same things. And if God was like man, they would all be dead for using his name."
Centino said that he is now rebuilding his life and launching his singing career in the US.
"I love music and I have a lot of great fans. I'm having fun right now enjoying life."
So what would he like people in similar situations to take from his experience?
"I would like people to understand that ministers are human just like everyone else, and if you were hurt by a man, you too can get back up. It is not your fault, speak up and do not hold onto that pain because it will kill you. And do not try to protect them, because they do not love you. I am very comfortable with myself and with my sexuality. I know who I am now."
"First Lady" is now available on Amazon.com.