By KHRISNA VIRGIL
Tribune Staff Reporter
kvirgil@tribunemedia.net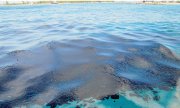 OFFICIALS of the Ministry of Transport and Aviation have launched a full investigation into another oil spill that occurred off Grand Bahama over the weekend.
They claimed, through a press release, that the oil slick, the second in months involving the Bahamas Oil Refining Company (BORCO) has diminished and is no longer visible. The incident occurred near Pinder's Point, shortly before 1pm on Saturday.
BORCO has said that a pipeline, which is believed to be the source of the spill, contained oily residue as a result of the decommissioning of several pipelines. Bunker C Heavy Fuel Oil was originally pumped through the pipelines.
"BORCO reports that approximately three weeks ago," the statement said, "the petroleum company commenced repairs at a
section of the jetty and they closed down seven pipelines and blew-out the lines with water. BORCO further reports that the procedure removed about 95 per cent of the oil from the lines, leaving some oily residue in the pipelines. This will be carefully monitored."
However, due to bad weather, the response team was unable to complete the assessment and clean-up operations on Saturday.
The National Oil Spill Advisory Committee held a meeting yesterday at 4 pm to review the situation and to ensure that mechanisms were in place to adequately respond to this latest incident. They are reviewing all actions to respond to the spill.
A fly over took place yesterday where it was confirmed that there were no signs of contamination. An action plan from BORCO was submitted to the government and approved for a clean up strategy moving forward.
Last month Robert Kennedy Jr, senior attorney, Natural Resources Defence Council, urged Bahamians to take a serious stand in preserving the country's precious underwater resources.
He said he was very concerned about the progressive breakdown of one of the country's most famous underwater reefs.
According to Mr Kennedy, several reefs in the Clifton Pier area have been nearly destroyed by repeated oil spills from BEC's Clifton Pier Diesel Power Plant.
Mr Kennedy's revelations came just days after Environment Minister Kenred Dorsette confirmed that 210 gallons of oil had been spilled on Sunday, January 20, in waters off Grand Bahama. However clean up crews disputed Mr Dorsett's claims and said that in fact thousands of gallons had been spilled.
The spill had occurred near the BORCO site in Freeport Harbour. 
At the time, the oil spill was the second at Grand Bahama since last December.
In December a tier-one oil spill happened off the coast of Grand Bahama after a Mediterranean Shipping Company (MSC) vessel reported a leak.
Shortly after that incident, around 70,000 gallons of fuel spilled onto the ground at the Bahamas Electricity Corporation's (BEC) fuel facility at Rock Sound, Eleuthera.