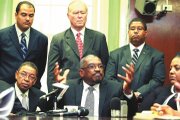 ALMOST nine months since being elected as the government of the Bahamas, the Progressive Liberal Party has failed "early and often", the opposition FNM said in a statement yesterday.
"It is blatantly clear that the PLP sold pie-in-the sky dreams to Bahamians," the statement said.
"No significant jobs have been created. As a matter of fact, Bahamian workers are losing jobs almost daily by way of layoffs or cruel typical PLP victimisation."
The FNM said all over the Bahamas, people now realise that the PLP is "a tale of two parties" – one that ran an extravagant campaign and made big promises, and the now government, with "no plan, laced with public relations distractions while citizens suffer".
The statement said: "Bahamians, particularly those residing on Grand Bahama, are disappointed by what appears to be the PLP government's priorities; a botched referendum exercise, greater comfort for parliamentarians, and world-wide travel exploits for PLP ministers and operatives at the expense of tax payers.
"It is clear that Prime Minister Christie has no real national agenda and Grand Bahama has become the land forgotten.
"The Free National Movement again calls on the PLP government to realise that people are hurting, crime is unbearable, and the honeymoon since May 7, 2012, is long over. Fancy talk and the false hope being pronounced daily will not do.
"The people of Grand Bahama and the wider Bahamas are looking for the kind of honest, prudent, and action-oriented leadership that will move our nation forward.
"The PLP government is failing miserably. The government is asleep at the wheel.
"The FNM once again reminds all Bahamians that every effort is being made on their behalf to force the PLP to deliver on the countless promises made just to win the general elections."