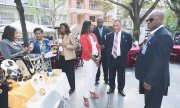 HAITI's membership in CARICOM and its anticipated participation in the regional single market present opportunities for improving the lives of the Haitian people, CARICOM secretary-general Ambassador Irwin Larocque said.
Speaking at the CARICOM heads of government meeting in Port-au-Prince, Ambassador Larocque said the lives of Haitians will improve through co-operation and economic benefits that can be derived from commerce and trade.
Addressing the Opening Session of the 24th Inter-Sessional Meetings of the Conference of Heads of Government of the Caribbean Community, Ambassador Larocque said some of these benefits have already begun to be realised.
"For example, the work of the Pan Caribbean Partnership against HIV and AIDS, and soon, with collaboration among the universities of the region, as well as the one way duty free access to the other Member States of CARICOM for some of your products," he said.
Haiti is hosting the Meeting of the Heads of Government of CARICOM for the first time, and Ambassador Larocque said there is "no greater indicator, symbolic and substantive, that Haiti has taken its rightful place within the Caribbean Community."
"This is certainly one occasion that the use of the word historic is most fitting," he said. "Ten and a half years after its formal accession as a Member State of CARICOM, for the first time a President of Haiti is Chairman of CARICOM.
"Also for the first time, Haiti is hosting a Meeting of the Heads of Government."
Mr Larocque said the fact that the country "has been able to rise above its monumental challenges of the recent past" and take over leadership of our Caribbean Community is testimony to the strength and resilience of its people.
"These are attributes which have earned you, the Haitian people, the admiration of all the Caribbean and should serve as an inspiration to your brothers and sisters in the region as we all confront the tough social and economic challenges of this time."
Secretary-General Larocque said there is an added significance to Haiti's assumption of the leadership of the Caribbean Community.
"This year we celebrate our 40th anniversary and what better way to begin that commemoration than having our most recent member leading the way. For, even as we look back with justifiable pride in our achievements over the last 40 years, we must embrace the promise of our future through accepting new ideas and seeking new perspectives. The achievement of the past is no guarantee of success in the future. "Therefore, so must we. As we go forward to the next 40 years, in accepting that the imperative for integration of our small states is undeniable, we also have to accept that we must change our modes of operation if we are to deliver to our people the standard of living they desire," Ambassador Larocque said.