By DANA SMITH
Tribune Staff Reporter
dsmith@tribunemedia.net
URBAN Renewal Commission co-chair Cynthia "Mother" Pratt hit back at "subtle and overt allegations of (funding) corruption" in the programme, insisting that every penny donated to Urban Renewal has been accounted for.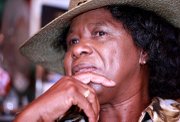 At a press conference yesterday, she maintained that transparency is an "essential" part of the initiative and declared that she would never be a part of any corruption – especially if it involves stealing from the poor.
She was responding to criticisms from one of the programme's advisory boards, whose members hit out at the programme saying they cannot put up with a "cloak and dagger routine" and questioned where thousands of dollars in reported donations are going.
The Bain and Grants Town Advisory Board East also claimed they haven't received any funding since the initiative was first started and pointed to "serious faults" in the Urban Renewal system.
"We hear the subtle and overt allegations of corruption. We can assure you that we know of none. Every penny moving through the Urban Renewal Programme can be accounted for," Mrs Pratt said.
"I reiterate, every single penny we have collected can be accounted for. I will not be a part of any corruption as it relates to funding or any other kind in the country. I am too old for that, at this point in my life. If I wasn't a young thief, you think I'll be an old one?
"There is no way that we're going to be a part of any kind of corruption, particularly in Urban Renewal where we are dealing with the poor.
"It's the poor people. There is no way you could even think that we could steal from the poor, when I am a poor – how can I steal from me?
"I hope I'm very candid today and I'm clear because for too long I've sat quiet and allowed people to run off at the mouth, talking nonsense, and I want to clear the air today for the Bahamas to hear me.
"Everything is transparent. It is on top of the table and we can account for every single penny that was given to Urban Renewal since we took this chair."
Mrs Pratt explained the Urban Renewal Commission is "keenly aware" there must be an open and transparent tracking of funding so as to "secure the confidence" of donors and all received donations have assisted with financing "many and varied" Urban Renewal projects.
"There is a private bank account which accommodates the said funding in a fully transparent environment," she said. "There is also a line item for Urban Renewal in the Ministry of Finance's budget and funds for personal emoluments of contract employees and other chargers are in a line item in the Minister of Public Works and Urban Development's Budget."
Co-Chair Algernon Allen noted that Urban Renewal has received just over $75,000 since he and Mrs Pratt took the helm, and all of the money can be accounted for and has gone towards funding Urban Renewal projects such as the Urban Renewal band.
He said it is also "not exactly correct" to say Urban Renewal centres do not receive funding, as social, mentoring, and health services that centres provide are funded by various government agencies.
Also present was Canon Basil Tynes, member of the Bain and Grants Town Advisory Board East. He said Mrs Pratt and Mr Allen have answered many of the board's questions and added: "Sometimes you've got to go through a storm before you realise what's going on."
Deputy Prime Minister Philip "Brave" Davis, who has Urban Renewal in his portfolio as Minister of Urban Development, also dismissed allegations that funding could be misappropriated.
Speaking yesterday morning at the Ministry of Works, he said: "In so far as Urban Renewal funding is concerned, there is a protocol that is set up by the Ministry for funds that may be donated outside of the consolidated fund. That goes into an account that is set up by the financial secretary and those funds are accounted for."