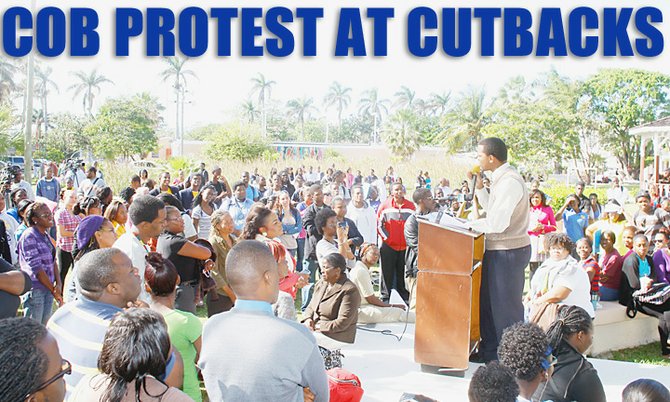 UPDATE: COB students met with Minister of Education Jerome Fitzgerald this morning at the Ministry of Education and are presently marching back to campus to speak with the college's president.
More on this update as information comes in to the newsroom.
---
By KHRISNA VIRGIL
Tribune Staff Reporter
kvirgil@tribunemedia.net
THE proposed funding cuts at the College of the Bahamas will not affect the quality of education offered by the institution, according to the government.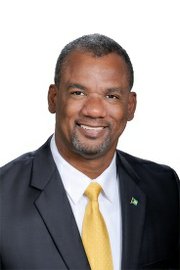 If any subsidies are cut, the reductions will most likely be seen in allowances for things like travel, rent, utilities, printing, supplies, materials and special financial transactions, Education Minister Jerome Fitzgerald said.
While the government has proposed that ministries could see a 10 per cent cut this year and 25 per cent the next, Mr Fitzgerald said COB has been asked to cut around $2.5 million.
It is expected that the money would come from improvements to operational efficiencies and other strategies for cost saving.
He claimed that no imposed reduction was planned to affect a quality or level of service to the public.
Mr Fitzgerald's clarification came in an afternoon press release after the College of the Bahamas' Union of Students (COBUS) threatened to sit out from classes and stage a demonstration if the government proceeded with cuts to COB's budget.
"It was made clear," the statement said, "in the letter of 20th December, 2012, the Ministry of Finance and the Ministry of Education, Science and Technology has absolutely no intention of reducing subventions to the College of The Bahamas that would cause a reduction in quality or level of services to the public or any forced reduction in head count.
"As Minister of Education, I accept my responsibility to ensure that my Ministry minimises waste, improve efficiencies and reorganise our priorities to ensure that we are able to effectively match the demands of the Ministry of Education Science and Technology."
The students were also up in arms over a proposed hike in tuition costs that they claimed were unwarranted while conditions at the college continue to deteriorate.
COBUS President Ernesto Williams told the around 250 students gathered at the campus' Independence Park that they would continue to fight for the interests of the student body despite challenges by senior administration at COB.
Among their concerns are a rodent infestation, union agreements which have yet to be signed, unexplained and misguided fees including the drop and add fee, and classrooms and infrastructure that are not maintained among other things.
Mr Williams further believes that COB's administration is attempting to keep students uninformed of the extent to which they will be affected by a set of proposed cost effective initiatives. He faces action by COB's board for disseminating a power point presentation by COB president Dr Betsy Vogel Boze with that information.
Her proposals included, according to Mr Williams, placing a moratorium or a suspension on hiring non critical positions, aligning contact hours with credit hours and closing programmes with very few students in them.
Dr Vogel Boze has said that it would be very challenging to move to university status while the organisation faces cuts to subsidies. She said while the college is trying to protect their staff and students, the plan moving forward has yet to be set in stone.
A group of students was expected to march to the Ministry of Education this morning where a meeting with Mr Fitzgerald was planned to begin at 9am.