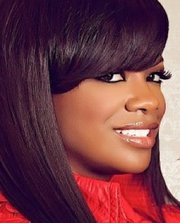 By ALESHA CADET
Tribune Features Reporter
acadet@tribunemedia.net
THE RECENT release of a gospel song by international recording artist Kandi Burruss, "Prayed Up", has raised eyebrows at home and abroad.
Some are asking are R&B artists who venture into Gospel music really genuine about their beliefs? Others say the finger pointing is unnecessary.
Kandi is not the first artist to cross over. R Kelly, Michelle Williams, Ma$e, Montell Jordan and Kelly Price have all produced gospel music in addition to their secular work.
Geo Johnson told Tribune Religion: "So you are telling me that a singer can decide to rap, sing R&B, sometimes even do a little dance-hall collaborations, but singing Gospel is a ban? Why? People today are way too judgmental and quick to point fingers when they too have issues that they have to ask forgiveness for."
Kandi Burruss is not only known as a singer. She is also the star of the reality show " Real Housewives of Atlanta", the owner of an intimate bedroom toys line "Bedroom Kandi" and a talk show host, "Kandi Koated Nights."
The lyrics in Kandi's new song state: "I stay prayed up, that gets me by. That's how I made it through my darkest times. Yeah I'm a sinner and that's no lie. Thank God my prayers are heard cuz he knows I try. Yeah I stay prayed up, yes I stay prayed up. See the only way I made it through my pain is through God's favour."
Jessie Kemp added her views: "I do not judge any artist who decides that they want to promote the kingdom of God. God has a way of using people in very mysterious ways get his word and his message to the forefront."
"These artists may have went through certain experiences that touched them in deep ways, and the only way they know how to express those feelings is by singing and sharing it through their music. Everyone has a testimony and they just chose to share there testimonies in an unexpected way. No matter what they have done in their lives, God is merciful to their unrighteousness and there sins. He will remember no more, once they accept Christ Jesus," said Ms Kemp.
Candice Dorsett said: "I don't know if she is doing it just for a check at the end of the day, but still, that is her life. Everyone has their own judgment and has to face God for themselves. I have not heard the song as yet, but I heard the buzz around it, and people take on things way too much."
Kandi took to social media to address the criticism that was headed her way after her song's release.
She said: "I knew when I decided to do it that I would be criticized. That's to be expected. I'm a single mom that had a child out of wedlock; I speak openly about sex on #KandiKoatedNights, I have #BedroomKandi, etc. I'm very honest about who I am. My great grand father and my grandfather were Bishops in the Church of God Holiness. I believe in God but I have always struggled with the rules of the church just like a lot of people. The song "Stay Prayed Up" is like a testimony for me.
Hopefully people with a similar struggle can relate."