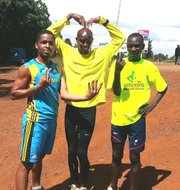 By BRENT STUBBS
Senior Sports Reporter
bstubbs@tribunemedia.net
SINCE returning to Kenya earlier this month to fulfil his dream of becoming a world class distance runner, Oneil Williams said he has been having the time of his life, readjusting to the conditions that he experienced when he first made the trek a year ago in preparation for the 2012 Olympic Games.
"I am settling in very good," said Williams about his trip so far. "The first two weeks was hard because of the altitude and recovering from the injury. I am just taking it slow with the training by doing a lot of long runs twice a day to reduce my weight along with gym. The weight is coming off pretty quickly due to the healthy foods I am consuming. As far as track is concerned, I won't work on my speed until sometime in March. But I'm getting ready because I know it's going to be a lot of hard work that I will have to put in."
After making the move a year ago, Williams fell short of his goal of qualifying for the Olympics last August in London, England, because of an injury he sustained in training. He has been slowly working his way back into tip-top shape and, right now, he said everything is progressing as planned.
"The atmosphere is great. It reminds me of Freeport's grassy roads but not its red dusty trails," Williams said. "A distance runner can run for miles on the grass, which is good to avoid injury, and I need that because of my hamstring. The training grounds in Iten are hilly so athletes can not avoid running hills, no matter how much they hate it."
Unlike when he was home and he had to juggle his time between his job at Grant Thornton and training, Williams concentrate solely on training in the city of Iten.
"My typical day of training is get up at 9am and have tea before going for a hour and 20 minutes run then layout my mattress for crunches and push-ups to help with strength," he said. "I would stay indoors most of the day either reading up on the news in the Bahamas, playing games or watching movies so my body can fully recover then it's off again at 5pm for an hour run. I would go to the gym two to three times a week to get my body strong and do a lot stretching. I feel it's good getting back in shape so the Bahamas can actually have someone competing against the Caribbean and the rest of the world in distance."
Since his return to Kenya, Williams said he has been in contact with some of the top distance runners in the world, which has made the trip an even more enjoyable one for him.
"I have met a lot of good athletes training in Iten alone for example my first day training," he said. "I saw David Rudisha, the World and Olympic Champion and also the world record holder in the 800m running on the road. I did several training sessions with Mo Farah, the double gold medallist at the 2012 Olympics in both the 5,000 and 10,000 metres. I can go on with individuals whose names are well known across the world in track and field. Iten is known for bringing elite athletes from all over the world and making them champions."
Coming from the Bahamas, which has been known for its sprinters, quarter-milers and jumpers, Williams said he's hoping to make a dent in an area that needs a lot more exposure, especially in the Caribbean.
"The Kenyans are very acceptable to foreigners and willing to teach us how to run fast also," he said. "They are always motivating me and telling me, I can make it. It's really great to be around people who have the same beliefs in running as me. Iten is called the distance paradise and the people are its welcoming committee.
"I am currently the only individual from the Caribbean training in Iten and I am always wearing my proud Bahamian colours to let the Kenyans know where I am from. The people know the Bahamas through Dr Myles Munroe. They are always complimenting his great teaching."
Williams is the Bahamas national record holder in the 5,000 metres in a time of 14 minutes and 54 seconds that he set on May 14, 2011. But he hopes that through his training in Iten, he can eventually erase William 'Knucklehead' Johnson's 1,500m record of 3:45.72 that he set in Austin, Texas, on May 17, 1983.
"I am concentrating on the 1,500m this year so I will run several 800m for speed work," Williams said. "I just want to be able to stay healthy and strong. The director of sports and former training partner, Tim Munnings, told me to bring home a new national record and I will deliver that request," Williams said.
"I am really thankfully to everyone who helped me along the way and hope I can make my Bahamian public very proud."
Williams said his goal this year is to qualify for the IAAF World Championships in Moscow, Russia, in August. He will need to at least run the B qualifying standard of 3:37.00 in order to make the trip. The A automatic QT is 3:35.00.