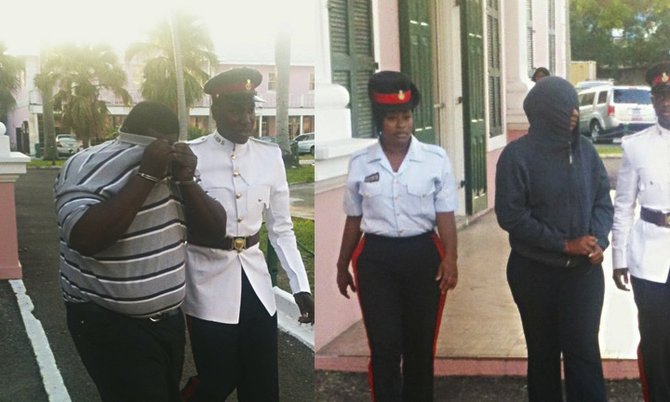 By LAMECH JOHNSON
Tribune Staff Reporter
ljohnson@tribunemedia.net
TWO former Scotia Bank employees, accused of stealing $1.3 million from the bank's Nicholl's Town branch in 2008, were convicted by a unanimous jury verdict yesterday.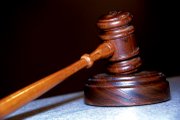 The formal convictions of Natasha Evans and Tremell Taylor came a week after third co-accused Byron Roberts pleaded guilty on February 18 about his part in the plot to steal money from the bank.
While Roberts will be sentenced today, Evans and Taylor are to be sentenced on March 8 and March 11, when their defending lawyers, Roger Gomez II and Romauld Ferreira, will each deliver a mitigation plea on their behalf.
Evans, an assistant branch manager at the time, was charged with Taylor, a former bank teller, with five counts of stealing by reason of employment. Throughout the trial they both denied the charges. It is first claimed that the two, being concerned together on April 11, 2008, stole $313,400 to which they had access by reason of their employment.
It is further claimed that on April 25 of that year, they stole $32,000.
On May 8, 2008, they are accused of stealing $235,000; and $310,000 on May 22.
It is also claimed that the pair stole $400,000 on June 3 of that year.
Taylor himself faced an additional five charges of stealing by reason of employment, together with former loans officer Roberts.
It was claimed that on April 23, 2008 the two stole $6,000, $3,000 on May 9, $3,000 on May 16 and $1,000 four days later, on May 20.
It was also claimed that they stole $500 on July 1 of that year.
Taylor also denied these allegations.
However, his co-accused Roberts changed his plea to guilty a week after the trial opened.
Last Friday, Justice Indra Charles told Jeffery Lloyd, lawyer for 40-year-old Roberts, that she did not want to sentence Roberts until the trial of the remaining two accused had been completed. She remanded him until then.
In Monday's proceedings, the judge ruled on the closed discussions that took place between lawyers Gomez II and Ferreira and prosecutors Ambrose Armbrister, Kevin Farrington, and Gordon Soles in the presence of Justice Charles.
Following further discussions, the nine-member jury was asked to return to the courtroom for the continuation of the trial.
Justice Charles addressed both Evans and Taylor after asking their lawyers if they had spoken with their clients.
"You have heard the evidence against you. It's time for you to make your defence," the judge said, before explaining their two options.
The judge said they could remain silent and call witnesses in their defence, or take the witness stand and be subject to cross-examination, along with any witness they brought.
Both opted to remain silent. They called no witnesses. Their lawyers made closing submissions to the jury.
Roger Gomez II argued that the prosecution had not produced sufficient evidence to convict his client Natasha Evans of five counts of stealing by reason of employment.
He also said Scotia Bank was using his client as a scapegoat for its own "slackness" in allowing $1.3 million to physically walk out without being able to prove who took it, how it got out of the bank and where it went.
Meanwhile, Romauld Ferreira said the prosecution had not proved that his client had acted with either Evans, or Byron Roberts, who pleaded guilty.
He too claimed his client was being used as a scapegoat by the bank, which is "under pressure to resolve this matter."
Prosecutor Armbrister, in response to these submissions, said all of the evidence pointed to the two accused, whose signatures on certain documents link them to the stolen funds.
In yesterday's proceedings, Justice Charles summarized the evidence given in the two-week long case before excusing the jury at 2pm to deliberate on verdicts in the charges against Evans and Taylor.
Minutes before 5pm, the jury returned to the courtroom and the foreman was asked if they had arrived at unanimous verdicts. Yes, he replied. They had found both Evans and Taylor guilty as charged, he said.
Following this, the judge excused the jury after thanking them for their services.
Following discussions about sentencing, sentencing was sent for Evans on March 8 and for Taylor on March 11.
Both Evans and Taylor were remanded to Her Majesty's Prison until then.