By LAMECH JOHNSON
Tribune Staff Reporter
ljohnson@tribunemedia.net
A RETIRED teacher whose near $100,000 retirement savings was stolen by her former attorney, gave the court consent to extend the attorney's compensation order to an additional two weeks.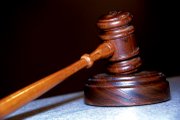 If by January 16, 42-year-old Sonia Timothy Serrette is unable to state to the court that she has the money belonging to Fiordelisa Bain, she will be sentenced in her next appearance before Deputy Chief Magistrate Carolita Bethell on January 18.
Ms Bain, when asked by the magistrate if she wanted to stay sentencing to give Serrette more time, she answered that her money was all she ever wanted.
"It was never my intention for Serrette to be jailed. I only want my money back. She took it without consent" she told the Magistrate.
December 31, 2011 was the last extended deadline granted to Serrette after she told the court last November that her efforts to secure proceeds from two civil judgements fell through.
Serrette and attorney Koed Smith asked the court for an extension to secure the $96,967.50 she stole from retired teacher Fiordelisa Bain.
She was convicted of stealing by reason of service on August 15 and was remanded to Her Majesty's Prison for six weeks before returning to court for a report on whether the victim would be compensated.
On October 12, Serrette's attorney, Geoffrey Farquharson, told the court that the convict's friends and associates, whom she relied on to handle her affairs, were not able to gather the money.
Mr Farquharson said Serrette would be able to pay the victim if she was free to handle her own affairs.
He asked the court to consider a compensation order instead of prison time.
Deputy Chief Magistrate Bethell said such an order could only be given with the consent of the victim.
Ms Bain came to court and gave permission for the order to be made.
The compensation order was made and Serrette was given a month's time by Deputy Chief Magistrate Bethell to restore the funds to the victim, who attends Serrette's church.
However, on November 19, the victim informed the magistrate she had received no funds to date.
Mr Smith said his client had made attempts but was unable to secure the $120,000 due to her as a result of two judgments she won in the Supreme Court.
Serrette had offered an alternative to the complainant in the form of property in Andros valued at twice the amount owed, the court heard.
The magistrate said she recalled the property could not be found when a search was done.
Serrette and her attorney then offered the conveyance of her beach front property in Eleuthera, which they said was also worth double what is owed.
Mr Smith asked the court to use its discretion and give his client additional time to make the necessary arrangements.
Deputy Chief Magistrate Bethell said she would have to get consent for an extension from the complainant, who has been 'out of pocket' and in debt since her money was stolen in 2009.
Ms Bain said she would give them more time but expressed firmly that she did not want property, but rather her money back.
The attorney agreed with the magistrate's suggestion that it was possible to get a bank loan, using the properties as collateral, and thereby restore the funds.
The extension was supposed to have ended on Monday, New Year's Eve with Serrette facing two-years imprisonment if she was unable to make restitution.
However, in Monday's proceedings, Serrette and Mr Smith told the court that all avenues had been exhausted and fell through.
However, he said, they were able to secure a letter, from a financial institution, addressed to the court concerning their consideration of giving Serrette credit to make restitution.
Looking at the letter, the magistrate said it was not only vague, but gave no indication of what the amount was being credited or if their was a definitve answer that the loan to Serrette would be approved.
Mr Smith said that the instituition, based on his consultation with the signatoree, would have an answer for Serrette, and by extension the court, in four to six weeks.
Ms Bain's reaction to this announcment was "what?"
The magistrate voiced her agreement with Ms Bain and said that it was too long and there was no guarantee that the institution would approve the loan, resulting in the retired teacher's time being wasted along with her hopes up.
Deputy Chief Magistrate Bethell moved to the option of sentencing as the compensation order did stipulate that sentencing would take effect if the money was not paid.
However, Mr Smith pleaded for only two more weeks as he claimed that he and Serrrette had not been resting on their laurels in trying to make restitution and did not want the matter to not be resolved and the virtual complainant not getting her money back.
Mr Smith said that he and his client appreciated and was grateful for the court's and the complainant's leniency. He said that if the money is not restored in two weeks, though he noted there was a strong likelihood that restitution would occur, then he and his client would accept the court's sentencing.
The magistrate consulted with Ms Bain after hearing the explanation from the convict and her attorney.
Ms Bain said she was tired of traveling back and forth to court for this case and only wanted to know, if she agreed to the extension, if she could have word of the result of their efforts two days before the next court appearance.
She said if they are unable to find her money by then, she would not return to court.
"It was never my intention for Serrette to be jailed. I only want my money back. She took it without consent" she told the Magistrate.
Deputy Chief Magistrate extended the deadline to January 16 and should Serrette fail to make restitution to her ex-client, she will be sent to prison when she returns to court on January 18.