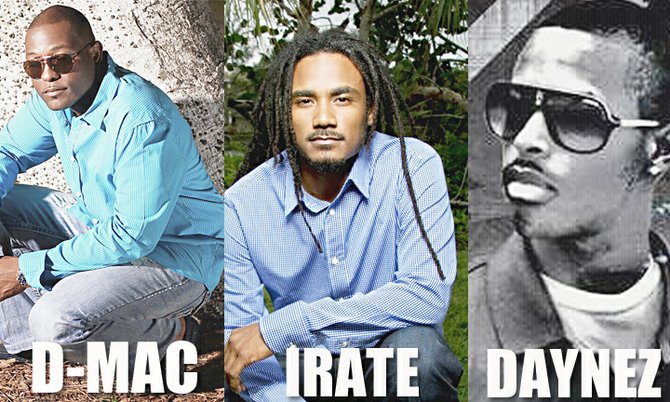 By FARAH and LESH
Tribune Features Reporters
SEVERAL Bahamian musicians and entertainers celebrated major milestones in 2012. In Ya Ear takes a look back at some of 2012's most unforgettable artists, who left us with memorable music, shows, and performances. They intend to follow though with this momentum in the year ahead.
D-Mac
Dillion "D-Mac" Mckenzie came into the year 2012 with a vengeance. Instead of his usual place behind the scenes producing and writing music for other artists, the roles changed drastically for him this year. The year 2012 saw the artist release song after song. They were not only timely but consisted of some of the most memorable lyrics like "stop diggin in ya bungie",  "I nearly married Da Gaulin", and "dog don't bark at parked car".
D-Mac's continuous presence on the music scene last year could not only be heard, but also felt by fans. He performed at several shows last year and hosted charitable to events, giving back to children in various communities on the island.
He also ended the year on a high note by spearheading The Bahamian Christmas Concert: D-Mac & Friends which made history as the first concert to feature the largest lineup of Bahamian artists. Over 23 musicians and entertainers paid tribute to Bahamian legend Ronnie Butler during the show. Proceeds from the event also went towards establishing a medical fund for musicians and entertainers battling various illnesses.
We expect the momentum D-Mac had in 2012 to carry through in 2013.
Rat Pack
The Rat Pack established itself in the second half of the year and already it has made an impact on the music scene. The musical conglomerate was formed by Dillion McKenzie, Mdeez, Sosa Man and Sammi Starr. The four musicians joined together in August with an intent of bridging the gap between the older and the younger generation of artists, as well as those who perform different styles of music. What connects them is that they have a keen interest in seeing Bahamian musicians unite despite their differences. Apart from each artist's work individually, they managed to get themselves notice with joint releases and charitable activities. In November of 2012, D-Mac and Mdeez became the first of the Rat Pack to release a song on the Thanksgiving Riddim. Sosa Mann collaborated with Willis Knowles, lead singer of the Illest Reggae Band to release a second hit on the Thanksgiving Riddim, Survival Psalms. Much more can be expected from the team this year.