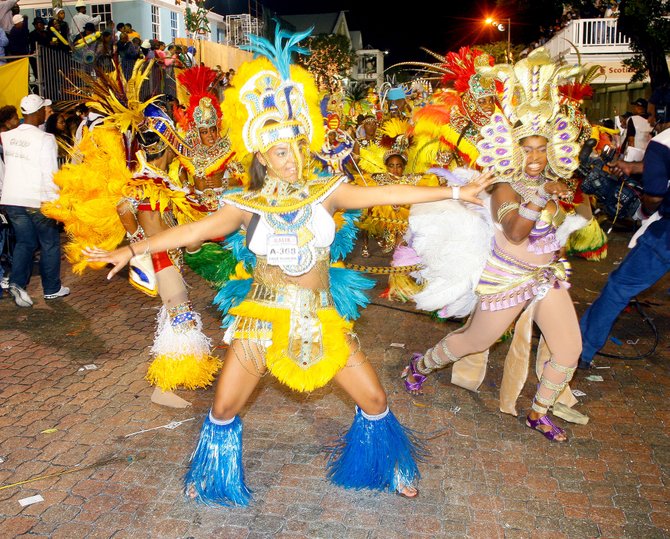 AVA TURNQUEST
Tribune Staff Reporter
aturnquest@tribunemedia.net
PAYING homage to ancient Egypt, the Shell Saxon Superstars returned to the throne as the unofficial victors of the 2013 New Year's Parade in the A category.
Beating out 2012 Boxing Day champions Valley Boys by a hundred points, the Saxons earned 2,812 points yesterday with their theme "Dynasty of the Pharoahs".
Colours Entertainment took home 3,113 points for the unofficial win in the B category, with Fancy Dancers and Compass For Christ, trailing in second and third respectively.
Last night, scores of Junkanooers crowded Arawak Cay to hear the unofficial results with Saxons members and supports erupting in cheer as the group were named as top scorers in their division for Best Overall Performance, Choreographed Dancers, Banner, Lead Costume, Costume, execution of Theme and Shirley Street.
Free National Movement leader Hubert Minnis, who rushed with the group, said: "We did very well, outstanding. Everyone was energized and there was a determination to come back strong after Boxing Day. We performed. The word tired did not exist in our vocabulary [yesterday], there was nobody that knew the meaning of that word out there. Egypt has been in the forefront and on the news over the year now, and still in the news. Egypt is a current event and has a lot of history to it."
Valley Boys, under the theme "Tourism", placed second with 2,707. Using the theme of "Fire", One Family placed third with 2,557 points and also took home the top scores in Best Overall Performance, and Best Music categories. Roots placed fourth with 2,501 points under the theme "Games That People Play".
Two A Groups, Prodigal Sons and Music Makers, were disqualified.
Parade Management Committee Chairman Douglas Hanna said: "According to the management team's count they didn't have sufficient numbers to qualify so there was a disqualification. There were challenges with that because there was some miscommunication near the end of the parade. Although the groups have been disqualified from the parade what we usually do is allow them to rush anyway because they want to rush and it's difficult for a group to stop rushing.
"We had a challenge with Music Makers because of the miscommunication on the second lap on Shirley Street. They said they were told to get off the parade so they didn't come around for the third lap."
Scoring was conducted manually, according to officials, who lauded the smooth operation of both Boxing Day and New Year's parades and noted potential changes to parade features.
Due to last minute technical difficulties, parade management decided to abandon electronic voting entirely for the New Year's parade.
Although yesterday's results were delayed, Mr Hanna said this was more likely the result of new administrative personnel and not because of the manual process. While he expressed disappointment that the team was not able to fulfill the promise of fully electronic scoring last year, Mr Hanna said the foundation for the new method has been established.
Despite the later start for the New Year's parade, both parades ended shortly before 1pm.
Notwithstanding a few minor incidents, the New Providence parades were orderly and safe, according to Minister of Youth, Sports, and Culture Daniel Johnson, who said this season's parades were exemplary.
In response to criticisms over lengthy parades, Dr Johnson said: "I think this year will be the last year you see this two-lap thing. You don't get a second chance to make a first impression."
"We're having Junkanoo congress in a few months and I'll put it to the National Junkanoo Committee, we're going to put it to all of the [Junkanoo] bodies in the entire country as to how to make the parade more fan-friendly."
"This is what parades should be like, they flowed well. All the parades went very well, it was hard-fought. The level of competition, the level of artistry, everything went higher. Normally, people think New Year's will be a little easier but no everybody came back again," he said.
Dr Johnson encouraged Bahamians to also support upcoming parades in the Family Islands, including Abaco and Eleuthera.
He said fans can also look forward to more standing area, hospitality tents, which will be designated areas for title sponsors, and free seating for women and children in this year's parades.
In the B Division, Colours Entertainment won Best Choreographed Dancers, Off-The-Shoulder, Freelancers, and Music. The group tied for Best Banner with Fancy Dancers, who also won Best Costume.
Jack Saunders won in the individual D Division.