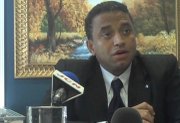 By DANA SMITH
Tribune Staff Reporter
dsmith@tribunemedia.net
DNA leader Branville McCartney said contradictory statements by Prime Minister Perry Christie and NIB chairman Gregory Moss concerning the latter's corporate credit card are very concerning.
He was speaking after Mr Moss rejected the Prime Minister's assertion the card had been revoked following allegations levelled by NIB director Algernon Cargill.
In his online statement, Mr Moss also dubbed reported comments by the prime minister as "pregnant with false innuendoes and implications".
Speaking yesterday morning, Mr McCartney said he is very curious to see what action the prime minister will take in response.
"I think it goes back to the point where decisions were made by the government regarding the director (Algernon Cargill) and decisions were made in terms of Mr Moss," Mr McCartney said, noting the series of allegations that have been made against both men.
"As a public figure, I would have thought persons would have stepped down pending an investigation. And now, it seems that Mr Moss and the Prime Minister are contradicting each other.
"If these reports are correct, that I read recently, it would seem there is some contradiction. The Prime Minister says one thing – Mr Moss doesn't have a credit card, and Mr Moss says that he has a credit card."
Mr McCartney dubbed the situation "very concerning to say the least" and said he thinks it is time for Mr Christie to increase his involvement in the discord brewing at the Board.
"We're dealing with NIB. We're dealing with our future," Mr McCartney said. "And this goes back to the former administration as well. I think because of the significance of NIB, it's paramount that the prime minister rolls his sleeves up and finds out what the deal is and rectifies it.
"This is a situation where the Bahamian people are now left guessing as to many uncertainties about the running and operation of NIB. He should find out exactly what's going on and report back to the people who put him in power – the Bahamian people.
"He can't take this lightly. He should not brush it off. Now that a member of his team is contradicting him, I'm very curious to see what the prime minister is going to do in that regard."
However, Mr McCartney explained, he doesn't believe Mr Christie should terminate the Marco City MP from his position at NIB.
Rather, he said, Mr Moss should be placed on administrative leave – as suggested by some political commentators when the allegations against him were first made.
"Just like Mr Cargill had to step down, Moss has to step down until an investigation is done," Mr McCartney said.
In his statement, Mr Moss said: "The local media reported the Prime Minister as having said that I no longer have a NIB credit card. That statement, if correctly reported, must have been inadvertent as it is untrue.
"But of more concern to me is the fact that that statement taken together with the comment which was attributed to the Prime Minister to the effect that and that 'there has been a lot of freewheeling' going on at NIB, if correctly reported, are pregnant with false innuendoes and implications as they would naturally be read by the public as suggesting that there is something untoward about my having a corporate card as chairman of NIB or that I have misused an otherwise legitimate possession of such a credit card.
"Accordingly, I have waited for approximately one week to see whether a retraction would have been published by the local media as to those statements or whether the Prime Minister or Minister with responsibility for National Insurance would have corrected the false innuendoes which surround those statements. Unfortunately, none of those things have happened."