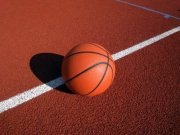 By RENALDO DORSETT
Sports Reporter
rdorsett@tribunemedia.net
A COLLABORATION between the country's longest summer basketball programme and the Pinewood community proved to be a resounding success in its inaugural effort, highlighted by an appearance from three time NBA champion Rick Fox.
Fox addressed the scores of aspiring players on the final day of the camp hosted by Jeff Rodgers and Pinewood MP Khaalis Rolle - his first Christmas basketball camp in the area.
"I would encourage you that those dreams are possible. All those dreams are possible because I lived it and experienced it as a fellow Bahamian, as a young man living here in the Bahamas," Fox said. "And I actually didn't leave until I was 15 to go to school in the states. But my foundation just like yours was made right here on our island of Nassau."
A 13-year veteran in the NBA, Fox split his career between the Boston Celtics (1991-1997) and the Los Angeles Lakers (1997-2004). He was an All-Rookie second team selection in 1992, and was a starter on the Lakers championship teams between 2000-02. He attended Kingsway Academy while in Nassau before leaving to complete his high school education in Warsaw, Indiana.
Fox went on to star for the North Carolina Tar Heels where he helped them to the 1991 Final Four, prior to being selected by the Celtics with the 24th overall selection in the 1991 NBA Draft.
Rolle, the minister of state for investments, hosted the free-for-all yuletide season basketball camp for boys and girls between the ages of five and 18 on the Pinewood Gardens basketball court December 17-29.
Pinewood, according to Rolle, will lead the way in ensuring that the young people in society have a positive outlet in which they can maximise their potential in an environment that is conducive to the season. 
"I've made the decision that we are going to put together a sporting league for young people in Pinewood," he said. "We have already purchased baseball equipment and we are going to use that for a start. We will start a sewing programme and we just want to get actively involved in building this community."
Rodgers said the basketball camp was considered "because of the fact that we know that for two weeks, we will have boys and girls out of school during the Christmas holiday and it is important to get them involved in some type of constructive programme."
"Just like the summer and the easter, we believe that it is very important for us to give them something positive and we believe the basketball camp is one of these ways that we can attract them and keep them interested. So we taught them the fundamentals of the game and also about the importance of the game of life."
Rodgers said some of the instructors who have assisted him in his annual Jeff Rodgers Summer Basketball Camp like Mitch Johnson, Taige Adderley, Kramer Taylor and Howard King lent their expertise as professional players to the participants of the camp.
"Each of these persons are people who grew up in the (Jeff Rodgers) camp and are professional athletes," Rodgers said. "We taught teaching life stories, had rap sessions and the kids had a chance to express themselves about anything they wanted and we dealt with it," he said.
"For the most part, we will be teaching a lot of basketball skills. But we want to ensure that they get a well-rounded experience by the time they leave these camps."