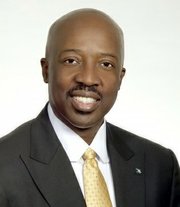 By KHRISNA VIRGIL
Tribune Staff Reporter
kvirgil@tribunemedia.net
NIB MINISTER Shane Gibson yesterday insisted that the board of the nation's social security net will carry on with its duties in the absence of a chairman.
While there is no clear indication of whether the government has a replacement lined up for Gregory Moss, Mr Gibson said there are enough persons in place to keep the ball rolling.
"What I am saying," Mr Gibson said, "is you have many statutory boards in government and if a statutory board is appointed and a member of the board resigns the board carries on.
"I mean, in most cases – for instance in Cabinet – I think the majority at least 10 or 11 persons make up a forum and so every statutory board has the minimum amount of persons required to carry on the business."
In addition, Mr Gibson said he was not at all embarrassed by Mr Moss' comments which were posted on Facebook claiming that the PLP did not do enough to defend him in the ongoing NIB debacle.
Mr Moss further claimed he was still in possession of a board issued credit card despite Prime Minister Perry Christie's assertion that he was not.
Mr Gibson said yesterday outside the Churchill Building that both Mr Moss' and NIB director Algernon Cargill's cards, with credit limits of $25,000, had been cancelled.
"I wouldn't say (I was) embarrassed, but it is something I thought was inappropriate. 
"The credit cards were at a limit of $25,000. Like Greg Moss said, he didn't ask for the credit card.
"When he was appointed chairman in the package he received from the director he said he actually received the credit card. So he didn't instruct the director to give him the card."
Meanwhile, there is still an audit of NIB underway. A report is expected in the coming weeks.
Mr Gibson said it is hard to tell if Mr Moss would still co-operate with auditors at this point.
"It is anticipated that it will be submitted before the 15th of this month, by next weekend it is anticipated that it should be submitted. I think they still have to interview Mr Moss, they still have to interview Mr Cargill, and one or two other persons," Mr Gibson said.