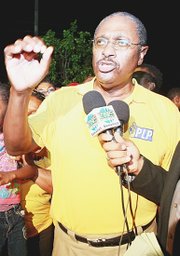 PLP Chairman Bradley Roberts said he would be "very surprised" if his party's Member of Parliament for Marco City, Gregory Moss, were to resign from the PLP and join with the FNM in protest for been forced to resign from the National Insurance Board.
Claiming that the first-time MP had simply made a "misstep" with his criticism of the Prime Minister, Mr Roberts said that he does not believe that Mr Moss' prospects in the PLP has been permanently damaged.
In fact, the party's chairman said that he believes Mr Moss could one day return to play a part in Prime Minister Perry Christie's administration once again.
"One misstep does not mean that you are out. I think he still has a future in the party. He is a very bright young fellow. That is my opinion," he said.
Speaking to the possibility of Mr Moss "crossing the aisle" and joining with the FNM, Mr Roberts said that he is of the view that Mr Moss is diametrically opposed to the philosophies of the FNM as he is a "PLP at heart."
"He has nothing in common with them. I have no fear of that. None whatsoever," he added.
Mr Moss' resignation request came after he released a statement on his Facebook page stating that the Prime Minister had told an untruth about him not still having his NIB issued credit card. The use of this credit card has been a part of an ongoing legal battle between Mr Moss and now suspended Director of NIB Algernon Cargill. Mr Cargill has since taken legal action against Mr Moss and NIB forcing the government to order a forensic audit into the ongoings at the nation's social security fund.
Mr Roberts: "We are all human beings and we are subject to error, that includes every human being that has come from a woman and Greg Moss is no different. I spoke to Mr Moss yesterday and he sounded very normal to me. When he ran in Marco City I thought at that time, and I still think at this time that Mr Moss is a very bright young man. He is grassroots, he has a big heart, and he is concerned about the welfare of the Bahamian people."