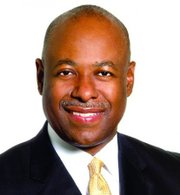 By NATARIO McKENZIE
Tribune Business Reporter
nmckenzie@tribunemedia.net
TOURISM Minister Obie Wilchcombe said his Ministry is looking to increase stopover visitor arrivals to 1.6-1.8 million per year, acknowledging that the Bahamas had lost market share to rival Caribbean nations.
"What Moody's has said we understand completely," Mr Wilchcombe told Tribune Business. "There have been other reports done over the last five years that showed our deficiencies and where we were having shortcomings.
"We have not put our head in the sand and pretended as if it's not real. We are using it as a teachable moment for us to move forward. We have to look at what we can to to ensure that we have a presence in the marketplace. We have to show the uniqueness of the Bahamas."
Mr Wilchcombe promised that the Ministry of Tourism's digital marketing campaign would take on "a new dimension".
According to Moody's, the Wall Street credit rating agency, the Bahamas has been "losing stopover market share" to rival Caribbean destinations ever since the recession hit in 2008, as its share of the region's land-based tourists fell by more than one percentage point over a four-year period.
When ranked alongside other Caribbean nations only, Moody's said Caribbean Tourism Organisation (CTO) data showed that the Bahamas' share of total stopover visitors to the Caribbean had fallen from 8.8 per cent in 2008 to 8.1 per cent in 2010, then slid further to just 7.6 per cent in 2011.
"We are looking to get back to 1.6-1.8 million overnight visitors," Mr Wilchcombe told Tribune Business. "To get that we need airlift, so we have to extend our arms to get the airlift. We have to have have a presence in the marketplace.
"We lost market share from places such as Florida and New York. Those places had been our bread and butter. There are some other states we have to go after like Atlanta, Washington, like Newark. We have to go back after those markets and we are putting people in place to regenerate relationships so that we can build our numbers there."
Mr Wilchcombe said that while official numbers had not yet been released, visitor arrivals for 2012 were 6-7 per cent above 2011, with stopover (land-based) visitors around 1.3-1.4 million.
"That's not good enough. We cannot take that because Grand Bahama and some of the other islands are still hurting. We need to ensure that we have visitors year-round to the destination of the Bahama islands, not just to Nassau/Paradise Island," Mr Wilchcombe said.
"We need to get our stopover visitor arrivals up. We need another 200,000-400,000. We have to remember we are building on 2014. Our numbers must be better than they are, and to do that we must have activities going on."
Mr Wilchcombe said greater emphasis also needed to be placed on improving the level of service in the Bahamas. "At home our product needs improvement. We have to lift the level of our service and cause Bahamians to appreciate that service is more about causing an appreciation of their country," he added.
"It's not servitude at all. It's an an appreciation of the Bahamas, and we want to appreciate who we are as Bahamians. We will be announcing an educational programme that will cause more people to become better equipped to be in the industry, where people are able to go and refresh their skills. You are also going to see a very dynamic plan for heritage, culture and entertainment because we appreciate deeply that people come for the experience of the Bahamas."