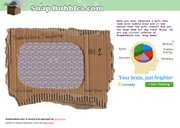 By Chippy Chatty
Big T web contributor
THE world of the world wide web is a big one – so where to start for the fun and cool websites out there? Here's a few pointers.
• www.factsie.com
Some websites thrive on fancy graphics and pretty pages – not Factsie. For Factsie, it's all about the facts, Jack. Read a fact, click the 'Read Another Fact' button to jump to the next one. And some of them are amazing, such as the CIA spending $20 million on a programme to equip cats to spy on Soviets – the first deployment of Super Spy Cat being ruined by it being run over by a car – or that Ghengis Khan killed 11 per cent of the world's population. There's links to sources, too, so you can check out the ones that seem too implausible!
• Snow Fall
The story of an avalanche in Washington's Cascades has captured the imagination of millions of readers over the holiday season – and all because of the brilliant way it has been told on the web by the New York Times. Combining video, graphics and beautiful web design, the story tells how an avalanche bore down on 16 skiers and snowboarders, and the rescue efforts that followed. Brilliantly told and well worth a look. One warning, if you have a slow internet connection, you may have to wait a while for it to load up properly. Have patience, it's well worth it. You'll find it at http://www.nytimes.com/projects/2012/snow-fall/.
• www.jibjab.com
This one's pretty well-known – but if you haven't made use of it before, then prepare for a giggle. Ever wanted to see your workmates or family dancing Gangnam Style? JibJab asks you to upload up to five photos of people's faces and then splices them into an animated dance routine. There's a few available to choose from – then just share it to Facebook or email. I say gather everyone around and hit play though, it's much more fun.
• http://www.nooooooooooooooo.com
This one's just for the Star Wars fans. Having a bad day at work? Someone just said something that deeply offends – such as asking whether Jar Jar Binks will be back for the new Star Wars movies? Just log on to http://www.nooooooooooooooo.com – that's 15 o's in there – and hit the big button to hear how Darth Vader feels about it.
• http://www.snapbubbles.com
I have an obsession. Chances are you have the same one. No one I know has ever, ever been able to resist popping the bubbles on bubble wrap. It's just a compulsion. Poppity pop. Just can't stop. Pop. One more. Pop. And yes, of course, there's a website where you can do it virtually. Not quite the same. But... still strangely addictive. That's it for this week. Must go. And pop more bubbles.
• Follow Chippy Chatty at https://twitter.com/chippychatty.