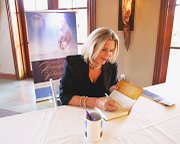 By ALESHA CADET
Tribune Features Reporter
acadet@tribunemedia.net
BASED on the family diaries of her grandparents, the pages of Marina Gottlieb Sarles' new novel tell an epic story of suspense, love and survival.
The Grand Bahama author said "The Last Daughter of Prussia" was centred around the largest and least known civilian mass exodus at the end of World War 2.
In the book, two unlikely young lovers must fight for their lives and find new love while struggling to escape one of the most dangerous and tragic landscapes of any generation.
Ms Sarles said "The Last Daughter of Prussia" was a fast-paced compelling tale celebrating the indomitable human spirit in the worst of times.
"My grandparents Edith and Walter von Sanden were part of this trek. The diaries they kept along this journey and the stories they passed down were the inspiration for this book. I wrote The Last Daughter for them," said Ms Sarles.
She said "The Last Daughter of Prussia" is a story of hope and faith.
"It is about the indomitable will that human beings bring forth in order to survive. For me the real message is one of compassion. You see I believe that everyone's story must be told and every side must be heard. Only when compassion is felt for all beings, for all slain tribes and for every unjustly slaughtered animal, can true healing occur in the heart of humanity," said Ms Sarles.
Ms Sarles is also the author of "Sand In My Shoes," a collection of classic island stories. She said the book also includes inspirational and funny stories that go beyond the usual idyllic island images.
"The tales include mythical characters, eccentric heroes and authentic Bahamian vignettes that paint a picture of everyday life in the Bahamas," she said.
Though both books "Sand In My Shoes" and " The Last Daughter Of Prussia" are steeped in truth, Ms Sarles said they are very different.
"Sand In My Shoes is tenderly funny and written mostly in the first person, while "The Last Daughter" is a serious historical novel," she said.
"I don't know if I can say that I have a specific writing style, but my desire has always been to convey a sense of truth, honesty and emotion in what I put to paper. I want the reader to imagine the story they are reading. I want them to be involved with the characters and the pull of the narrative, as it takes them forward. I try to write in my own true voice," said Ms Sarles.
She said her parents and medical practitioners, Ejnar Gottlieb and Owanta Gottlieb von Sanden, who came to The Bahamas from Germany in the late 1940s, were fantastic storytellers.
"My interest in writing was piqued by them; by their humour, courage, sensitivity, stories about life, people and the war. My grandfather was a well known writer in East Prussia, and my mother, Owanta, wrote her amazing life story in her book called "Angel Stand by Me." So, writing is in my blood," said Ms Sarles.
Even though her book is now out and published, Ms Sarles said she would still read a sentence and think of something she could've changed.
She added: "But really I am extremely happy with the book in its finished state. People tell me again and again that they love it and that it's a page turner and that is enough for me. Luckily, I trusted my editors, Joy Stocke and Kim Nagy of Wild River Books. Although they edited out certain parts that I felt attached to, I know it was for the best. The narrative is fast moving and from all the feedback I've heard, the novel keeps the reader hooked until the end. What a journey writing is," said Ms Sarles.
"The Last Daughter Of Prussia" is available at The National Art Gallery of The Bahamas' gift shop.