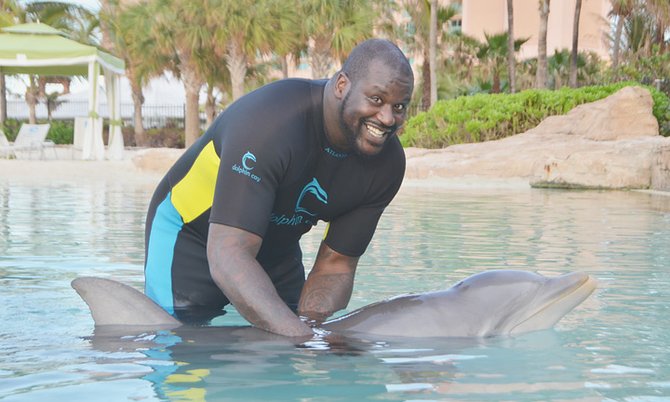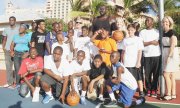 LEGENDARY basketball superstar Shaquille O'Neal was in Nassau over the weekend to promote an upcoming charity event being held on Friday, February 1, at the Atlantis Resort on Paradise Island.
The gala evening called "Pandora's Box in Paradise" is being put on by the Paradise Children's Foundation and will raise money for local Nassau charities.
Through the generous donations of sponsors and volunteers, 100 per cent of the proceeds raised will benefit those in need.
The event is going to be spectacular and unlike any other event held in the Bahamas, foundation director Wendy Ellis said.
"We really believe this is going to be the event of the year, one you won't want to miss. I don't think anything this big has ever been done here in Nassau," she said.
The evening's events include a fantasy casino night. With the purchase of a ticket, guests will be given $1,000 in complimentary gambling chips that can be used to play blackjack, craps, roulette, or on slot machines.
Because of its charitable nature, Bahamians and residents alike have been given special permission by the government and are able to participate.
If you're not much of a gambler, then your chips can be redeemed for a chance to win some of the amazing prizes which including use of a 165ft private yacht in the western Mediterranean, use of a G5 private jet for six hours, 10-day One&Only global hotel stay (any combination), $25,000 shopping spree at Versace/Milano, $25,000 shopping spree at John Bull, two tickets to Alicia Keys in April at the Atlantis Resort including a meet and greet, and two nights in the Bridge Suite.
Organisers said: "The magical, fantasy evening will touch all your senses – from a burslesque performance by the Queen of Burlesque, Dita Von Teese, to an amazing performance by improvisational speed painter Dan Dunn and the European strolling musicians The Gypsy Queens, there is something for everyone.
"And of course no evening would be complete without the great array of exotic dishes featuring food stations from Carmine's, Jean George, Casa D'Angelo, Nobu and Seafire."
Harry Cohen, director at Paradise Children's Foundation, said: "I think it's important for us to give back to the community as much as possible. Our goal with this event is to raise as much money for the children as possible and let the adults have fun doing it.
"There are many needs out there, many good organisations and many people doing their own bit to help." Wendy Ellis added: "We thought how great would it be to do something on a really big scale, to have everyone come together from one end of the island to the other, for one night, to raise as much money as we can, not just for one, but for many local children's charities."
The charities being supported include, but are not limited to: the Ranfurly Home, Elizabeth Estates home for Children, Bilney Lane and the Bahamas Emergency Children's Hostel.
Tickets are $500 per ticket or 10 for $4,500. Alcohol is included in the price. To buy tickets, call the Atlantis Box office at 363-3000, or visit: http://www.atlantis.com/pro
motions/pandorasbox.aspx.