By LAMECH JOHNSON
Tribune Staff Reporter
ljohnson@tribunemedia.net
BEFORE being sentenced to 16 months in prison for trying to smuggle cocaine into the USA, a woman told the magistrate that she was willing to risk getting caught because she needed the $6,000 payment to take care of her and her then two-year-old child.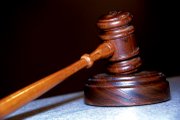 Alexandria Johnson, 22, of Millennium Gardens, appeared before Deputy Chief Magistrate Carolita Bethell yesterday morning to proceed with her trial in connection with a drug arrest nearly two years ago.
Johnson faced two charges – taking steps to export dangerous drugs into the US and possession of dangerous drugs with intent to supply – allegedly committed on January 20, 2011.
The accused had pleaded not guilty to the charges when arraigned a day later in 2011.
In yesterday's proceedings, a Drug Enforcement Unit officer and two U.S. Customs and Border Protection officer were present in court expecting to testify concerning the crimes in question.
However, prosecutor ASP Ercel Dorsett addressed the court and said that Johnson wanted to take "a certain course of action."
The magistrate had the three witnesses leave court and asked Johnson if she understood what she was doing and if she understood the meaning of "unequivocal guilt."
Attorney Glendon Rolle, who was present in court, explained the legal term for the accused.
The accused then told the magistrate that she, at no time, knew what was in her suitcase until officers searched it and cocaine was discovered.
She admitted that she was carrying the suitcase to deliver in exchange for money.
Deputy Chief Magistrate Bethell asked her if her common sense at the time of the request didn't give her an indication of what she was agreeing to do.
"At the time, I needed the money so I wasn't thinking what it was," the teary-eyed woman said before adding that "common sense, it had to been to drugs."
"I knew it was drugs," she said.
ASP Dorsett then read the brief facts surrounding the incident in question as requested by the magistrate.
On the day in question, Johnson presented herself to a US Customs officer having already checked in at the front counter.
Johnson's nervous demeanour made the officer suspicious of her and they ordered a search of her luggage in her presence.
They found a package located in a hidden compartment of the luggage. A test of the contents of the package revealed it to be cocaine.
She was arrested and taken into custody at the airport police station where she was interviewed by DEU Cpl King concerning the drugs.
Johnson, in that interview, admitted to having knowledge of the drugs, but did not know the type of drugs.
She was carrying the bag to someone in the US. The cocaine found weighed 2.48 pounds.
When asked how much she was offered to smuggle the drugs, Johnson said she was offered $6,000.
ASP Dorsett said the accused had had no prior brushes with the law.
Deputy Chief Magistrate Bethell asked her to explain how she allowed herself to get caught up in such an operation.
"At the time, I was put out of my home by my ole lady," the accused began.
"You mean your mother?" the magistrate asked.
"Yes," Johnson replied.  "I was put out by my ole lady, and so I was living with my uncle."
"I needed the funds for me and my baby so I took a risk," she said.
"How old is the child?" the magistrate asked.
"He turned four today," she said as tears rolled down her cheeks.
"Who will look after him for you?" the magistrate asked.
"My mom," Johnson answered.
Johnson was asked if she had anything further she wished to tell the court before being sentenced.
"Be as lenient on me as possible," the woman pleaded, as more tears flowed.
Deputy Chief Magistrate Bethell told Johnson that she was fortunate her charges did not come months later in November of 2011 when the law was amended to no less than four years for drug charges.
The magistrate took into consideration the amount of drugs, the charges themselves along with Johnson's admission of guilt, her clean record until the present conviction, her time spent on remand and "that you're a single mother" before sentencing Johnson to 16 months at Her Majesty's Prison.
The 16-month sentence applies to both charges which were ordered to run concurrently.
The magistrate offered Johnson, who accepted, the chance to participate in the prison's education and technical classes.
Deputy Chief Magistrate Bethell told the woman that she should learned from this lesson and hoped she would be able to find an honest living to take care of her son in a year's time once she is released from prison.