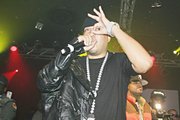 By LESH
Tribune Features Reporter
acadet@tribunemedia.net
SECURE financial backing and fulfilling all contractual obligations are key to bringing well known international artists to perform in the Bahamas.
Just a few weeks ago, In Ya Ear reported that frequent last minute cancellation of shows by big name artists had left some local patrons uneasy about buying pre-sold tickets.
Responding to criticism of these fail showings in the country, local promoters spoke to In Ya Ear to talk about what needs to be in place.
AC, who is 100 JAMZ Operations Director and 'Rich Forever Featuring Rick Ross' Concert Coordinator, said there were a lot of elements that promoters had to deal with when putting together a concert.
Even though the 'Rich Forever' concert delivered a great response just a few weeks ago, its promoters had to undergo a huge change in plans as the original show was cancelled in October because of Hurricane Sandy.
According to AC, people see the final product on stage, but what comes before that requires a whole lot of effort.
"There is the security, sound stage, accommodations, printing of flyers, dealing with immigration and the back and forth negotiations between the promoter and the artist management team," he said.
AC spoke of the 'rider agreement' artists sign so that a promoter knows what is expected of them.
"In this agreement, some of the artists would say that they refuse to be picked up or ride in a car that is not within the current year. This is apart from what they are being paid to perform. These demands happen and they know that they can do it so they do it and this can make or break a concert."
Kyle Stuart of Cyclone Entertainment has been a part of promoting events that brought in artists such as Rapper Trina, Ace Hood, Lloyd and more.
It's important to make sure all the i's are dotted and the t's are crossed.
"Other than going over budget, the main problem a promoter may face is being under staffed. Some people try to do it all by themselves and at the last minute have to find people that come with some unrealistic cost to get things done," said Kyle.
He said there are many reasons why an artist would cancel out in a scheduled show such as tickets not being paid on time and hotel reservations not being confirmed.
"If the artist requested 2 first class tickets and 4 coach tickets and you only got 1 first class ticket and 5 coach tickets, they can refuse to fly. And would then request a private plane because the promoter did not live up to the agreement," said Kyle.
He said in an event where a promoter would have to come up with a plan B or last minute cancellation, a good idea would be to find a new date as soon as possible.
"If the date is not in the very near future, refund the money to the persons who bought tickets and cannot attend it on the new date. If the artist is a really hot artist, you may not be capable of hosting that show for a few months," said Kyle.
Phelan Ferguson, Guinness Brand Manager, sponsored shows featuring Dancehall artists Mr Vegas and Lady Saw at last year's Guinness Arthur's Day Concert.
He said while his job was to deal with writing cheques and helping to co-ordinate where he could, it was the promoter who has the most difficult part to handle.
"When we decided to bring Vegas, he didn't just come with himself. He came with his full band and two dancers and that in itself made the whole thing more difficult. It is the promoter that has the main headache in dealing with the artists and making sure everything is working out," said Phelan.
He said in most cases from what he has seen, the reason why an artist would not show up for a concert has not been because of problems due to a promoter, it has been other things.
"It can be travel documents and things like that. In our case we had no issues but if most people do their homework well in advance with the artists, they wouldn't have any problems either," he said.
Sasha Dunn of the Vendetta Group, who has been a part of the promotions that brought in Vybz Kartel, Richie Spice and Busy Signal, said Bahamas immigration was also an important factor in putting together a concert.
"Especially with Jamaican artists, the immigration department just see it as you bringing in someone in the country to work. And after dealing with that hurdle, you have the hassle of dealing with the Christian Council. Nowadays they want to step in and have their say when it comes to these concerts," said Sasha.
He added: "Then you also have to think about sponsors and figure out how you are going to pay these artists. You need that financial backing and if you don't have it then you have a major problem. Especially when you are dealing with American artists, because they usually cost 10 times more than a Jamaican artist would cost."
Sasha said it was a common practice for promoters to send out posters for a concert that has not been confirmed by the performer's management team.
"They already have the posters up. I feel like that is how these people get themselves in these kind of predicaments with cancellations and all that hassle," he said.