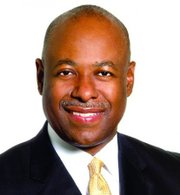 By DANA SMITH
Tribune Staff Reporter
dsmith@tribunemedia.net
A regulated web-shop industry and the creation of a national lottery could become tourism attractions for the country and sources of revenue, according to Tourism Minister Obie Wilchcombe.
Speaking yesterday morning outside Cabinet, Mr Wilchcombe said if both questions on the January 28 gambling referendum are passed, tourists would "absolutely" be able to purchase lotto tickets and play numbers – in addition to present casino gambling.
He compared it to the number of Bahamians who gamble and play lottos, abroad.
"In the United States on an annual basis, (Bahamians) spend $2.5 billion – now how much of that is spent on the national lottery in Florida?" he questioned.
"Well if they (Americans) come here, we're talking about 3 to 5 million tourists who can buy lottery tickets. And in fact, they can buy webshop numbers as well because its open to everyone. It's not restrictive."
It was last week that the tourism minister, with gaming in his portfolio, said he does not think three weeks is "too short a time" to properly inform the public on the pro's and con's of gambling.
His comments came after heavy criticism from the opposition, who claim the government has not given the public enough information to make an informed decision.
"We are using every medium possible. We will use the media, the newspapers, radio ads social network as well as Bahamas Information Services to get the information out there," he said.
"My office has already begun preparation in the event that it is a 'yes' and we have already begun the process of putting the machinery in place. We are only waiting for the formal announcement of questions by Dr Nottage, then it's full speed ahead and that announcement should happen any minute now."
Mr Wilchcombe said if the pubic agrees to legalize web-shop gaming, "number houses" will be temporarily shut down to put the necessary regulations and machinery in place. He said this closure is expected to last no less than 30 days and no more than 90 days.