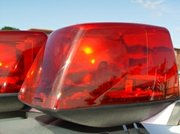 THE Mall at Marathon had to be evacuated yesterday afternoon following a bomb scare.
Just after noon, an anonymous caller to Going Places Travel Agency claimed an explosive device was in the building.
Police arrived on the scene within minutes of being alerted and moved all staff and shoppers to the parking lot a safe distance from the building.
The Bomb Squad swept the entire mall, but found no trace of a bomb.
According to Going Places staff, the call was recorded and the tape has been passed on to investigators.