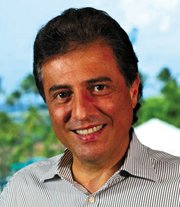 By NEIL HARTNELL
Tribune Business Editor
nhartnell@tribunemedia.net
The Bahamas faces "a nightmare" if Baha Mar's opening in 2015 fails to increase stopover visitor numbers, Atlantis's top executive warning such a scenario would spark "a rate war" and drive hotel sector salary levels to "unsustainable" levels.
George Markantonis, Kerzner International (Bahamas) president and managing director, expressed optimism that such an outcome would be avoided, but said all stakeholders needed to work together if the stopover visitor pie was to be grown, not divided.
He told the Bahamas Business Outlook Conference yesterday that the hotel industry and, by extension, the wider economy was looking at "two potential scenarios" when the $2.6 billion Baha Mar development became fully operational in 2015.
Taking the negative one first, Mr Markantonis said: "If we don't get enough additional demand, we'll [Atlantis and Baha Mar] have to compete head-to-head.
"If we go head-to-head, that means a rate war - 90 per cent of the time, that's what it means. If there's a rate war, no one wins, and neither does the Government."
If there were too few stopover visitors to satisfy both Atlantis and Baha Mar, the two properties will be forced to engage in heavy room rate discounting to attract guests, resulting in reduced yields, room revenues and, ultimately profitability.
And, given that the Government's gaming taxes and room levies were largely based on prevailing room rates, Mr Markantonis said its tourism-related revenues would also decrease in such an environment.
Besides, the impact on room rates, the Atlantis chief also analysed the potential impact on the Bahamian hotel industry's labour market and wage scales if the worst-case scenario came to pass.
"We open here," Mr Markantonis said, referring to Baha Mar (the conference was held at the Wyndham), "and there's not enough quality labour at the highest levels and the lowest levels to satisfy both properties."
If that happened, he said the Bahamas could "forget about rates", as the competition for scarce quality labour between Atlantis and Baha Mar would drive pay scales that were "unsustainable".
This, Mr Markantonis added, would compound the problems already created by a 'rate war' between Atlantis and Baha Mat.
"It will become a nightmare, because service declines, as we have got to have quality people," the Kerzner International executive said.
And the impact would not just be confined to Paradise Island and Cable Beach, but spread throughout the wider hotel/tourism industry and Bahamian economy.
"If we get into a battle, we've got other hotels. What will happen to all the little people - the small hotels, restaurants, tourist attractions? It will be a nightmare."
Mr Markantonis's comments echoed concerns expressed ever since the Baha Mar project was first conceived, namely that it would split the market for high-end visitors with Atlantis, rather than grow it - to the detriment of both resorts and the Bahamas generally.
Airlift to Nassau/Paradise Island has to increase by 30 per cent between now and 2014 to accommodate the two properties, but Mr Markantonis said a negative outcome was far from assured.
The 'best case' scenario, he said yesterday, was that "Baha Mar opens and it brings NEW, with capital letters, visitors to this destination, because then we can co-exist like Las Vegas".
The Nevada city had been able to grow its visitor market to accommodate new mega resort/casino developments, Mr Markantonis noting that it had absorbed a room inventory increase from 120,000 to 126,000 over a two-year span.
Las Vegas now has 175,000-180,000 hotel rooms, and the city's resorts had only "seen a small reduction in occupancy, because they've figured out how to bring in new visitors".
To ensure the Bahamas enjoyed a similar positive outcome in 2015, Mr Markantonis said it had to tackle the issue from, numerous angles, such as education/training; promotion and marketing; and product diversity.
He suggested that the Government, Atlantis and Baha Mar, the wider tourism industry and private sector, and schools, colleges and Bahamian families all had a role to play.
"Our labour force needs to mature and become more sophisticated," Mr Markantonis said. Both Atlantis and Baha Mar had their own so-called 'universities' and training programmes, and the likes of the College of the Bahamas (COB), high schools and family units were also critical.
"Let me tell you, there are some bad stories out there," Mr Markantonis said. "We built a small kitchen location [for training purposes], and it was gone 30 days later. It wasn't us who removed it."
He added: "To succeed, number two, Atlantis has to stay fresh. We're already doing that. We can't reduce our capital expenditure and anything we're doing right now. That property has to remain pristine, and has to expand in amenities."
The next critical development was "concentrated promotion" by Baha Mar itself.
Mr Markantonis said Atlantis spent "eight digit" sums annually on its own marketing initiatives, and he added: "If our colleagues at this location do the same thing, and Sandals does a great job on this as well, not just media but social media as well, who benefits? The destination. Its loud and clear."
The Ministry of Tourism and Nassau/Paradise Island Promotion Board needed to maintain their "destination-focused marketing", with Mr Markantonis also calling for better "diversity of product" in the hotel and tourism sectors.
"We can't have the same retailers, food and beverage outlets, jewellery stores. I won't allow another jewellery store at Atlantis. We have 20 in line. We don't need that," he said.
Mr Markantonis said tourists wanting to enjoy a jewellery shopping experience instead needed to travel to Dubai.
The Kerzner International chief added: "We want this property [Baha Mar] to succeed, and the good news is we're all working to that end.
"There is potential for a major problem, and we as stakeholders all have responsibilities. It comes down to education, government in promoting and marketing, and responsibility is going to be incumbent on the two biggest employers in the country."