By LAMECH JOHNSON
Tribune Staff Reporter
ljohnson@tribunemedia.net
A MAN will wait nearly seven weeks for the Court of Appeal to hear arguments on whether he should be retried in Supreme Court on a manslaughter charge, despite being acquitted of murder more than a decade ago.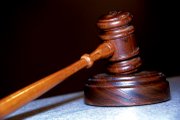 Court of Appeal Justices Christopher Blackman, Stanley John and Abdulai Conteh were not prepared to hear arguments concerning the appeal of Leon Farquharson, who is fighting then Supreme Court judge Anita Allen's order for him to be retried on a charge of manslaughter.
Farquharson had been charged in connection with the January 27, 1995, murder of Vandyke Zoncile.
Zonicle was shot following an altercation which purportedly started over someone hitting Farquharson's mother in the head with a stone earlier in the day.
Farquharson was stood trial for murder in 1999 and there was a mistrial due to a hung jury.
A retrial was ordered that same year and in October, a jury acquitted Farquharson of murder.
However, on the lesser charge of manslaughter, the jury was split on the verdict 6-6, causing another mistrial.
The then-judge ordered a retrial on a manslaughter charge.
However, Farquharson's attorneys Murrio Ducille and Nathan Smith are fighting that order, claiming the judge erred in law by failing to refer to the constitution, which outlines whether a person can be retried after being acquitted of murder.
The matter was adjourned to February 27.
Terry Archer and Patrick Sweeting represented the Crown in this appeal.