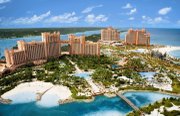 By NEIL HARTNELL
Tribune Business Editor
nhartnell@tribunemedia.net
Atlantis's leisure visitor business is "showing exceptional strength", the resort's top executive has revealed, with bookings for January to-date 19-20 per cent ahead of prior year comparatives.
George Markantonis, president and managing director of Kerzner International (Bahamas), the Paradise Island resort's operator, said this positive trend followed a 25 per cent increase in leisure traveller bookings for December 2012.
And, although, the Bahamian hotel industry in general is concerned about what currently looks like a "soft" April 2013, Mr Markantonis said Atlantis was aiming to counter this through special events, such as the upcoming Alicia Keys concert.
With key medium-term performance indicators at Atlantis trending positively, too, the top Kerzner International executive told Tribune Business: "There's a lot to be optimistic about."
But Mr Markantonis also provided further evidence of how hard it would be for the Bahamian hotel industry to "wean itself" off an Air Fare Credit programme he has described as "unsustainable", revealing to Tribune Business that 30 per cent of bookings made through Atlantis's Florida call centre used the initiative.
And Mr Markantonis said it was "too early" to contemplate a further Phase IV expansion on Paradise Island, though he did not rule this out. Critcial to such a move will be the ability of the Atlantis and One & Only Ocean Club owner, Brookfield Asset Management, to refinance the $2.3 billion debt it inherited from last year's debt-for-equity swap, and the impact Baha Mar's new 2,100 rooms have on the Bahamian hotel market from 2015 onwards.
Looking to the present, Mr Markantonis told Tribune Business: "January is ahead of our projections right now.
"We had an excellent end to 2012. We have to wait and see how this year pans out, but our leisure bookings are showing exceptional strength versus the same period last year. We were up in December 25 per cent year-over-year, and bookings are ahead 19-20 per cent for month to-date for January."
Mr Markantonis attributed the strong leisure visitor bookings to a combination of Atlantis's "innovative promotions" and improving consumer confidence/incomes in the Bahamas' key source market, the US.
Investor confidence was also increasing gradually, following the US presidential election and 'fiscal deal', while signs of a housing market recovery were also critical. Mr Markantonis pointed out that a key component of US consumer wealth was the equity value of their homes.
"We are comfortable where we are for winter," he added of the upcoming peak tourism season, despite industry concerns over the April outlook. That is likely being influenced by timing issues, given that the Easter weekend - which traditionally falls in that month - in 2013 straddles the end-March/April beginning period.
With the Easter weekend starting in the first quarter, Mr Markantonis told Tribune Business: "My observations [are the same as] the other hotels, who are also showing a bit of apprehension about the month of April.
"We traditionally always had Easter or the Jewish holiday in April. We're taking some exciting proactive measures, such as the Alicia Keys concert of April 20. She has the No.1 album, but does not do very many concerts.
"We are working on a few other options, at least on the weekend, to create results. People are focused on the President's Weekend and Easter travel now, so it may be a short booking period. Everyone feels April is a little bit soft right now."
Other promotions being run by Atlantis include a $65 per night, per person rate for room sharing arrangements, plus children under 12 eating free at the resort.
Providing an insight into the hotel industry's Air Fare Credit 'quandry', Mr Markantonis told Tribune Business: "Thirty per cent of people who reserve our hotel through our Florida centre take advantage of that Air Credit - 30 per cent of the bookings."
The inference being that a withdrawal of the promotion, which offers discounts worth several several hundred dollars on an air fare, could cause at least a portion of those bookings to reconsider a Bahamas vacation.
Despite its value in driving business, Mr Markantonis warned the Bahamas Business Outlook conference last week that the Air Fare Credit was "unsustainable". He said the promotion, whose financing was split 50/50 between the Ministry of Tourism and industry Promotion Boards, was costing $14 million per year and, by March 2013, the latter would have to dip into future "anticipated" revenue streams to fund it.
Atlantis finished 2012 with an average occupancy rate for the year that was "slightly over 70 per cent", Mr Markantonis describing this performance as "much higher than anticipated, and higher than 2011".
Group business had been "up considerably" for 2012, and Mr Markantonis said the medium-term trends for this segment were looking "very strong". The group booking pace for 2014 is ahead by 38 per cent, with that for 2015 up by 132 per cent.
The Kerzner International chief attributed this to a combination of events, such as the 'Battle 4 Atlantis' basketball tournament, and renewed confidence in corporate America. Much of Atlantis's, and indeed the Bahamas', group category tends to be businesses and corporate events, which book two-three years out.
Strong advance group bookings provide Bahamian resorts with a solid business core around which they can arrange their leisure travellers. Mr Markantonis told Tribune Business he was especially encouraged by the 2015 numbers, given that the same year would be Baha Mar's first full one in operation.
"In another year, our close competitor's going to open," he added. "Baha Mar is open in 2015, so for us it's very encouraging. I'd hate to be 10 per cent behind."
Mr Markantonis said annual capital expenditure on amenity upgrades at Atlantis would remain in the $40-$55 million range moving forward. The second half of the Royal Towers, featuring some 600 rooms, is set for refurbishment this year, with the Cove scheduled for upgrades in 2014.
He added, though, that it was "too early" for any decision about a Phase IV expansion on Paradise Island. Some 70-80 acres had been set aside for this eventual purpose when the properties were owned by Kerzner International, but Mr Markantonis said Brookfield, the Toronto-headquartered asset manager, first needed to refinance the $2.3 billion debt it inherited from Atlantis's now-operator.
"The owners are going to have to refinance this project themselves over the next 18 months," Mr Markantonis told Tribune Business. "I know the conversations have already started, and they will get serious towards the end of the year."
Brookfield took over Kerzner International's obligation to repay the $2.3 billion in principal owed to other members of the lending syndicate it was formerly part of under the terms of last year's debt-for-equity swap. The debt's maturity was extended to September 2014, in a bid to give Brookfield and the other lenders breathing space in working out a way forward.
The other key Phase IV determinant, Mr Markantonis said, was that "we have to wait and see what happens with Baha Mar".
Kerzner International only introduced new phases on Paradise Island when it was comfortable there was enough market demand to fill them. Thus it, and Brookfield, will assess what impact Baha Mar's new 2,100 rooms make, and then see if there is further capacity for more inventory at Atlantis.
"Our relationship with our owners is an excellent one," Mr Markantonis said of Brookfield. "They really do have a strong commitment to the property, the employees and the country. "I think that is evidenced by the fact they continue to fund our capital expenditure programme to the previous levels. They continue to fund our marketing promotions, and their communications with me are generally very supportive and creative."
Mr Markantonis added that "there hasn't been any progress" in Kerzner International's efforts to sell its last real estate interest on Paradise Island, the former Hurricane Hole Marina and Shopping Plaza site that it values at $29 million.