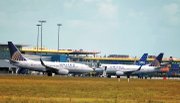 A JETBLUE flight to the Bahamas was forced to turn around yesterday after striking a bird.
The Airbus A320-200 took off from John F. Kennedy International Airport in New York around 10am, when the crew reported they had hit a large bird at about 500 to 700 feet above ground, The Aviation Herald reported.
The crew continued their flight but stopped after talking to operations and returned to JFK landing safely about 35 minutes after departure, said the Herald.
Airline officials said it was not a direct bird strike.
Metro New York reported a JetBlue spokesman saying: "The customers were fine. It was not an emergency landing or anything like that."
The aircraft was able to depart again after about 90 minutes later and headed for Nassau.
All 125 passengers arrived safely in the Bahamas around 2.40pm.
One day earlier, a bird strike forced a JetBlue flight from JFK to the Dominican Republic to turn around.