By CHESTER ROBARDS
Tribune Senior Reporter
crobards@tribunemedia.net
EMERGENCY Medical Services (EMS) personnel - some with life-threatening illnesses - say they need the government and the Public Hospitals Authority (PHA) to put them on a "comprehensive" medical insurance plan outside of their National Insurance coverage.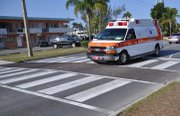 An EMS worker, who spoke on condition of anonymity, said they suffer physical debilitations because of the rigours of the job.
Meanwhile an older EMS worker reportedly nearly suffered a heart attack on the job and another is apparently in need of an organ transplant. None has the means to pay for the operations that would save their lives, the EMS worker claimed.
"It's now 2013 and after years of begging and pleading with the PHA and government for comprehensive medical insurance, EMS staff, who are literally on the front line of pre-hospital health care, putting their lives on the line 24-7 on the streets of Nassau, Grand Bahama and Abaco, are still risking our lives and health, uninsured," said the EMS worker.
"We spend forty plus hours every week to and fro through the streets of Nassau, Grand Bahama and Abaco putting our lives on the line in face of chaotic, violent scenes, verbal abuse – at times we are physically attacked by psychiatric patients or violent persons on scene – extricating persons from mangled vehicles, being exposed to contagious diseases and at times toxic fumes and chemicals, even with flying bullets, rushing through traffic, just to save lives.
"Yes, that's our job and we accept that. It's a thankless job most of the time though, as people hardly ever thank us for what we do, leaving us to pat one another on the back and say good job.
"We're over worked and under paid, but almost all of us would come back the next day in a heartbeat to do it all over again."
EMS workers received five new, state-of-the-art ambulances in November that will assist in decreasing their work-related injuries. The EMS worker said while they are grateful for the new ambulances "we need a comprehensive medical insurance, the drug plan and a wellness and fitness programme".
The worker said they often cannot afford medication when it is not available at the Princess Margaret Hospital and also are not afforded meaningful counselling services despite being called to some of the "most gruesome scenes".
"We want access to top-of-the-line and state-of-the-art medical care," said the EMS worker.
"But when are we going to be seen as being just as important as the police and nurses who both have medical insurance?
"And no, a group session with a motivational speaker, guessing his or her way around what our job entails, though we sincerely appreciate their efforts, is simply not a proper debriefing."
The EMS worker insisted they are "stuck between a rock and a hard place" when their health problems become more than the nurses and doctors in "A/E (Accident and Emergency) and the wards" can provide.
"This is a job where we should be well taken cared of because of the high risk involved in carrying out our duties and its not happening," the worker said.
"Because of the mental load and body wear and tear that we must bear daily, the last thing that we should be worrying about is being able to get adequate health care in our time of need."