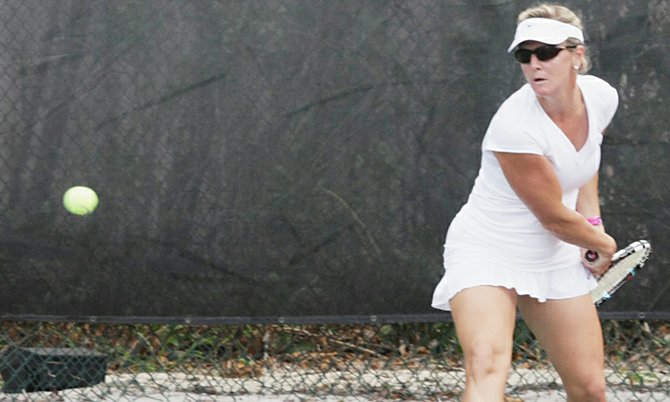 By BRENT STUBBS
Senior Sports Reporter
bstubbs@tribunemedia.net
THE Bahamas was joined by the United States of America, Canada and Barbados as winners of the International Club Doubles Week that returned to Superclubs Breezes on Monday.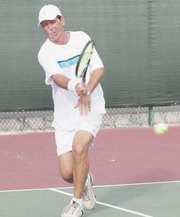 The tournament, which was first played here two years ago, will be staged throughout the week.
Playing out of Pool B, the Bahamas pulled of a 3-2 decision over the International team, made up of players from the various countries participating in the tournament.
Today at 2:30pm, the Bahamas will have their hands full when they take on Barbados, who stunned Austria with a 3-2 victory. Austria and the International Team will clash today, starting at 8am.
Also at 8am, the US will play Great Britain and Canada will meet Belgium in Group A. Yesterday, the USA breezed past Belgium 5-0, while Canada out-lasted Great Britain 4-1.
On Wednesday at 8am, the USA will face Canada, Belgium will square off against Great Britain and Barbados and the International Team will clash. The Bahamas will play Austria at 2:30pm. The teams will have an off day on Thursday before they come back on Friday to play for positions from 1-8 as the tournament comes to a close.
Kit Spencer, who is organising the tournament, said they got off to a great start and the teams are all looking forward to the rest of the week.
'We're very happy. We put it on first time two years ago and the teams have all returned with a lot of nice players," Spencer said. "There's a lot of good tennis going on and we are proving that tennis is a game that is played for life."
Spencer said on Sunday a lot of the players from the various teams participated in some friendly matches against the local junior players and they were quite impressed with what they saw. But he said it's now time for them to get down to the task of representing their teams and it's only going to get tougher as the tournament goes on.
Teams will play daily doubles matches of men's 60 and 65s, women's 40 and 60s, men's 50 and 55s, men and women 60s and men and wen 50 and 40s respectively.
Bahamas def.
International Team 3-2
The Bahamas lost their only match of the day when the International team of Gordon Aydelott and Bob Beverley from the United States came from behind for a 4-6, 6-2, 10-7 triumph in the men's 60 and 65s doubles.
However, the Bahamas got on the ball as the combo of Dyphany Mortier and Sus Kimball took care of the American team of Tara Mactaggart and Judy Aydelott 6-12, 6-2 in the women's 40 and 60s doubles.
"We're a good chemistry," Kimball said.
"We cover each other well," Mortier added. "We were a little rusty, but tomorrow (today) we hope to play better."
But Kimball said it was a good match to get "us started. We needed that for practice."
The team of Neil Mactaggart and captain John Antonas had to dig down deep to prevail with a 6-4, 2-6, 11-9 victory over the Austrian duo of Alfred Wunder and Bernd Lorber in the men's 50 and 55 doubles before the husband and wife team of Mas and Sue Kimball came back for a 6-1, 6-4 win over Americans Bob Beverley and Judy Aydelott in the 60s mixed doubles.
The Bahamas lost its final match in the 50 and 40s mixed doubles to the International team of Alfred Wunder and Tara Mactaggart. They defeated the team of John Antonas and Dyphany Mortier.
Barbados def. Austria 3-2
In what turned out to be the upset of the day, the mixed 50 and 40s duo of Raymond Forde and Julie Salomon won 6-4, 6-2 over the team of Alfred Klammer and Yvette Fischli to clinch the victory over Austria, the runners-up in the initial tournament.
"It was convincing, surprising I might add," was how Barbados' captain Peter Symmonds summed up their victory. "We might have been the underdogs, but we had a few Bahamian conch fritters last night (Sunday) and that seemed to have pumped us up."
Although they got off to a fast start, Symmonds said they were sitting on pins and needles after they had to wait until the fifth and final match was played to determine the winner.
Barbados opened their tie with a 1-6, 6-4, 10-8 from the men's 60 and 65s doubles team of Tyrone Mapp and Ian Gentile over Peter Eipeldauder and Edmund Seliger. They then won the women's 40 ad 60s doubles with Julie Salomon and Margot Thomson beating Yvette Fishli and Ernestine Kock.
But Austria levelled the playing field as the men's 50 and 55s team of Gerhard Thaler and Helmut Kock took care of Raymond Forde and Peter Symmonds in a hard fought 6-2, 6-7 (4), 10-8 battle, while Helmut Flagel and Ernestine Kock won their mixed 60s doubles 6-0, 3-6, 10-1 over Tyrone Mapp and Marie Kueleba to step up the clincher.
"We came out the first day and didn't have much time to practice, but I really thought that this last mixed doubles we should have won," said Peter Lund, captain of the Austria team. "But we lost the first doubles and our ladies were not as strong as the other team. This is our weak point.
"Now we must see what happens tomorrow because we have to win all of our ties and Barbados has to lose. We have to win against the Bahamas and Barbados has to lose against the Bahamas. But the Bahamas is going to be hard to beat. The last time we just beat them, but this is tennis and you have to go out there and play."
Win or lose, Lund said his 16-member team from Austria would have certainly enjoyed their return trip here. He said they had an opportunity on Saturday to travel to Harbour Island where they all enjoyed themselves. He said he just hopes the trip didn't take too much out of them.
USA def. Belgium 5-0
It may sound like a broken record with the results posted.
The American men's 60 and 65 team of Ian Smith and Art Abbott won 6-2, 6-1 over Belgium's Dennis Ing and Daniel Charles.
The American women's 40 and 60s team of Cinta Kemp and Teresa Schuerholz won 6-12, 6-0 over Belgium's Martine Van Der Winkel and Brigitte Brocken.
The American team of Gil Schuerholz and Chris Reynard won 6-1, 6-3 over Belgium's Philippe Vercruysee and Florin Duca.
The American 60s mixed double team of Norm Chyst and Kay Beverley won 6-2, 7-6 (4) over Dennis Ing and Brigitte Bocken and the American 50s and 40s mixed doubles team of Tom Smith and Cinta Kemp won 4-6, 6-1, 10-7 over Belgium's Philippe Vercuysse and Martine Van de Winkel.
Canada def.
Great Britain 4-1
The Canadians secured the tie after winning the first three matches.
Canada men's 60 and 65 team of Geoff Fernandes and Peter James def. Great Britain's Nigel Barker and Roy Henderson 7-5, 6-0.
Canada women's 40 and 60 team of Dale Kozicz and Pam Olley won 6-4, 6-0 over Great Britain's Diane Chea and Peggy Sokoloff and Canada men's 50 and 55 team of Owen Pellew and Peter Nielsen won 7-6 )0), 6-4 over Great Britain's Peter Martyn and Julian Tatum.
But Great Britain got on the scoreboard when their 60s mixed double team of Nigel Barker and Peggy Sokoloff on 6-4, 6-1 over Canada's Geoff Fernandes and Pan Olley before Canada came back and completed the tie with their mixed 50 and 40 team of Peter Nielsen and Dale Kozicz took care of Great Britain's Roy Henderson and Diane Chea 6-1, 6-1.