By CHESTER ROBARDS
Tribune Senior Reporter
crobards@tribunemedia.net
THE GOVERNMENT moved to allay fears that Dean's Blue Hole on Long Island will be sold in a multi-million dollar land deal stating that the property "will remain in the hands of the Bahamian people."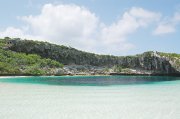 Speaking from the floor of the House of Assembly, Tourism Minister Obie Wilchcombe said that he, his parliamentary colleague Loretta Butler-Turner and Prime Minister Perry Christie all agree that the famous blue hole should not be lost to private interest.
The property, around what has been measured as the deepest blue hole in the world, is owned by several foreigners, according to Mrs. Butler-Turner, who is the island's member of parliament.
While Mr Wilchcombe did not say what the government can and will do to secure the property, he said: "It will remain in the hands of the Bahamian people. We will not get rid of our treasures, it is a part of the Bahamas and we are going to keep it."
Thirty acres around the blue hole has been listed for sale by local real estate company Durrant Harding at a price of $10 million and it has also been advertised for sale by Colliers, a Miami-based real estate firm.
Colliers' Chairman, Michael Fay, told The Tribune yesterday that his company is an "exclusive broker" that is helping the land's owners to market the Dean's Blue Hole property and identify international buyers.
He added that they are seeking a local real estate partner to facilitate the sale of the property. By law only Bahamian real estate agents can sell land in the Bahamas.
Executive Director of the Bahamas National Trust, Eric Carey, said yesterday that while the blue hole itself can never be sold because it is a part of the sea bed, the property around it should also be preserved.
"The blue hole is not private – it is sea bed and belongs to the government," said Mr Carey. "My view is that the land should not be sold. This should not be sold to a foreigner who can sit on the porch."
He added that the blue hole should have been declared a national park a long time ago, and been given an official designation. He said the site has been called a "natural wonder" but has not been given an official declaration – and as such is not protected.
While blue holes attract mass attention worldwide, Dean's Blue Hole attracts special attention because it has been measured as the deepest blue hole in the world at 663 ft. The Vertical Blue freedive competition is held annually at the blue hole.
Currently, the blue hole and its beach and diving cliffs can be accessed by anyone wanting to visit the site.
Mr Wilchcombe said the government hopes to protect sites like Dean's Blue Hole and possibly even register them with the United Nations Educational, Scientific and Cultural Organisation (UNESCO).
"People will always come for sun, sand and sea," he said.
"What gives us the distinction is those unique features and we can't let them get out of our hands.
"This is 2013. What is ours we have to hold on to, we have to protect it for the Bahamian people."