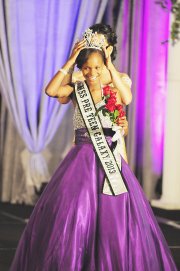 By ALESHA CADET
Tribune Features Reporter
acadet@tribunemedia.net
IT was a dream come true for eleven-year-old Halle Bowe, as she won the international title of Miss Pre-Teen Galaxy 2013 in Orlando, Florida.
The St Andrew's School pupils said the moment her name was called, she was amazed and she asked herself 'is this for real?'
Halle said she was proud to be able to compete with girls globally, but most importantly, be able to represent her country.
Halle said the experience was 'flabbergasting.'
"At the different events such as the Orientation, All White Party and Pajama Party, I met so many new friends. I learned so many different things about their home and culture, and I took a lot of photos. The pageant challenged me to be well rounded both in my academics and stage presence. I was able to come home with my goal of receiving the crown and title of Miss Pre-Teen Galaxy 2013," said Halle.
While this was an overwhelming journey for Halle, she said it was not the first pageant she has entered. She started pageantry at the age of eight, capturing her first title of 'Little Miss Bahamas' in 2009. Making community appearances in the country, Halle said she aims to be a role model to other young Bahamian ladies like herself.
Halle said the best advice she has received in pageantry, was to be herself and gain as much experience as possible because no one ever knows where it can take you.
"I would say to young girls, if you want to win a national or international title, you must be confident, prepare yourself, show good sportsmanship and have fun. Even if you do not win the crown, it is not going to be the end of the world. You're still a winner and would have learned skills that you never had before."
Halle wants to be a paediatrician and go to Harvard University. She said she believes that responsibilities have no end and education is the key to success.
She looks forward to using her new title to make her voice an even stronger and effective one in her community.
"I do see myself entering another pageant, even though it can be a little nerve wrecking at times but I enjoy watching pageants and the competition," said Halle.
She said her goals are to interact with children in orphanages and with children who are less fortunate.
Apart from the pageant world, Halle said she enjoys reading, swimming, playing tennis and soccer. She said her talents range from stage drama to playing the violin and piano.
Bahamas Galaxy Pageant Organisation Director Andrea Knott said young women interested in having the opportunity to compete at the Galaxy International Pageant can sign up and register to take part in the Bahamas Galaxy Pageant this year.
She said: "It is so important for young women to sign up and for parents to register their young daughters. They will learn about increasing self-esteem, growth and advancement in career goals, the traits of good sportsmanship and displaying leadership skills as a role model in the community. With a supportive committee comprising of former beauty queens and pageant veterans, providing personal development training to women and young girls will always be our passion."
The official start of the pageant programme begins with an orientation for registered contestants, to be held at the end of January. 
Registration deadline for all divisions will be on Wednesday, January 23.
To sign up, members are asking persons to write to bahamasgalaxy@yahoo.com, mbgalaxyorg@hotmail.com or call 558-4358 or 429-8963 for more information.
Bahamas Galaxy Pageants is slated for Sunday, April 28, at the Rainforest Theatre.