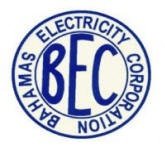 By SANCHESKA BROWN
Tribune Staff Reporter
sbrown@tribunemedia.net
PRIME Minister Perry Christie said yesterday the government is considering hiring more staff at BEC to "share responsibilities" rather than pay a few workers hundreds of thousands of dollars in overtime.
Mr Christie's comments came after Leslie Miller, BEC's chairman, expressed concern that salaries and bonuses at the Bahamas Electricity Corporation have been putting an unnecessary burden on the backs of Bahamians.
According to Mr Miller, BEC paid over $12 million in overtime last year.
Addressing the press outside Cabinet, the Prime Minister said the amount paid in overtime is excessive and the government will try and bring it down as far as possible.
"As you know, in a very highly publicised way, we made a commitment to address the cost of generating electricity. We've had a significant number of proposals put in to us on the whole exercise of how we can make BEC a much more productive institution in our country and cost effective institution in our country," he said.
"The question you ask about huge payouts and overtime clearly it makes more sense go hire additional people than to just pay a preponderance of money to a few people as opposed to allocating more responsibilities and sharing more responsibilities through adding more people to the staff. That would be a formula that we can look at."
Mr Christie also allayed fears that the government has plans to sell BEC.
He said: "There has been no consideration on my part of the government to sell BEC. What I can say is that we have received a number of proposals, some of which are based on a private company meeting the cost of generating electricity and BEC distributing it. So in that sense what they are saying is that it can become much more beneficial to the Bahamian public to have a commercial investor community in our country."
The Prime Minister said the government is not looking at any specific company right now, but they have received a number of very "significant proposals" one or two of which are led by Bahamian owned companies. He said the government is "trying to get this done as quickly as possible."
Last month, Mr Miller told The Tribune that BEC was on the brink of collapse as a result of paying a handful of employee millions in overtime.
In total $2,393,152.99 was paid to just 10 employees. 
According to Mr Miller, in the 2011/2012 fiscal year, BEC paid out $41.8 million in salaries, $11.8 million in overtime costs, $1.5 million because of sick leave and absenteeism, $3.7 million in medical costs, $3.1 million in bonuses and allowances, $348 million in fuel costs and $5.1 million in vacation time.