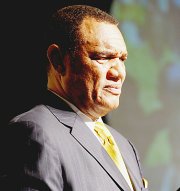 By KHRISNA VIRGIL
Tribune Staff Reporter
kvirgil@tribunemedia.net
TO CLOSE down every web-shop ahead of the referendum would take great effort and cost taxpayers a lot of money, Prime Minister Perry Christie insisted yesterday. 
His statement came in response to calls from clergymen and vote "no" campaigners that the government should have shut down all number houses pending the outcome of tallied votes on January 28.
And while proponents of gambling have argued that around 3,000 persons would be left jobless should the "no" vote win, Mr Christie said his administration would have no choice but to fill the employment gap.
"I told the church (and) I was very honest with the church," he said. "I was not going to even try it. As I said before, it would take a lot of effort and a lot of money to try. Whenever that happens,  if there is a 'no' vote,  and we begin the process, you will see the extent to which that is going to be a very costly affair.
"The government has to (be prepared to find them jobs).
"Everyone knows what the economy of the Bahamas is facing.
"There are a number of investments that are now reaching the point where they will be able to hire. Some (are) in the pipeline where later this year they will begin to hire. So we are optimistic. There are so many people who are unemployed that the prospect of adding to it will be just another challenge,  but the people of the Bahamas will exercise their judgment in this regard.
"We just have to wait and see what they will do."
According to Mr Christie, there are scores of Bahamians who have been able to make ends meet through employment with the 'vote yes' campaign. He told of two sisters which he said were employed with his campaign.
"(There are two sister) who live in a one bedroom with three children each, with no running water and no electricity. I would not dare open my mouth and tell them they cannot be employed with the 'vote yes' people. They are working because no one else is helping them.
"Social services in some instances will help with rent, will help with payments, but they need jobs. But when they are not working who in the devil is going to help them?" Mr Christie asked.