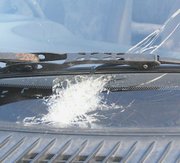 A NASSAU resident is warning about dump trucks laden with quarry and pea rock speeding along JF Kennedy Drive and Windsor Road.

The woman was driving past Lynden Pindling Airport recently when a rock flew off a dump truck going in the opposite direction, and smashed her car's windscreen.

She was not able to get the licence number or description of the truck, but reported the incident to the police.

They said similar occurrences had been reported, but that nothing could be done without identification of the vehicle. Trucks should have a covering over their loads and police warned they are booking truck drivers who do not comply with the law.
The woman said she only had third party insurance, so her insurance company would not cover the windscreen replacement.

The truck driver should be liable for the damage to her car.