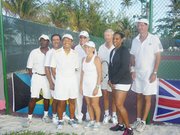 AFTER recording wins over Barbados and the "International" team on the first two days, the Bahamas pulled off its third victory in a row to beat the seeded Austrian team 3-2 in the Bahamas (IC) International Tennis Doubles event at Breezes. 
At 2pm today, the Bahamas is slated to take on the US, who won their group, to determine the first and second places as the week-long event comes to a close.
Bahamian women Dyphany Mortier and Susan Kimball once again proved a source of strength, winning their women's doubles match over Yvette Fischli and Ernestine Kock 6-4, 6-4. 
Sue Kimball joined her husband Mas Kimball to record a second win in the older age category mixed doubles over Edmund Seliger and Ernestine Kock 6-0, 6-1.
The younger mixed doubles team of Neil Mactaggart and Dyphany Mortier lost a close match to Helmut Flagel and Yvette Fischli 7-6 (4), 6-3. 
The older men's doubles match was again a close match with the team of Kit Spencer and Mas Kimball going down 7-5, 7-5 to Helmut Flagel and Gerhard Thaler.
The overall win for the Bahamas was achieved by a great win of the younger Bahamian men's pair of John Antonas and Neil Mactaggart over a strong Austrian team of Helmut Kock and Alfred Klammer. They split the first two sets and won by clinching the 10-point tie break third set for the Bahamas with a score of 6-4, 2-6, 10-8. It couldn't have been much closer.
In the other matches, Belgium beat Great Britain 3-2, USA beat Canada 4-1 and Barbados beat the International team 3-2.
Said IC president Kit Spencer: "This was a great victory for the Bahamas and it has been a real team effort. While everyone on the team has contributed to the wins, our two ladies have been a particular strength.
"Overall, it has been a great week of some excellent tennis where the IC motto of "hands across the net, friendship across the ocean" has been well in evidence and it has shown just how tennis is a game for life.  I would particularly like to thank SG Private Banking for their sponsorship that has made this week possible and for the contribution of the Sports Division of The Ministry Of Tourism for helping to host our overseas visitors to "Tea at Government House" on Thursday.
Thursday was a rest day – an 'Enjoy The Bahamas Day' – to help showcase the country to the visitors from around the world.
• Here's a look
at today's fixture:
FRIDAY
8am - Court one - Belgium vs Barbados (third and fourth place playoffs)
Court two - Canada vs Austria (fifth and sixth place playoffs)
Court three - Great Britain vs International Team (seventh and eighth place playoffs)
2pm - United States of America vs Bahamas (First and second place playoffs)