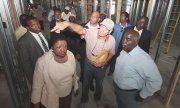 ON Wednesday, Deputy Prime Minister and minister responsible for public works, Philip "Brave" Davis, toured the $14 million Georgetown hospital in Exuma, which could be open by year-end following the completion of construction at the end of June.
Mr Davis said the Ministry of Health is now in the process of identifying what is needed to outfit the facility.
He said the hospital is essential for attracting more foreign direct investment to Exuma and the Bahamas

Mr Davis said he and his team from Ministry of Works were also in Exuma to identify an area to build an administrative complex, make plans for a bypass road to ease traffic throughout the island, check on remedial work on the island's dock and bridge and look into reclaiming the island's regatta site.