By AVA TURNQUEST
Tribune Staff Reporter
aturnquest@tribunemedia.net
HURRICANE Sandy wrought more than $700 million in damage throughout the country, according to government estimates.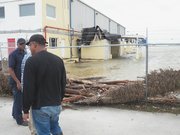 The Inter-American Development Bank has agreed to grant $200,000 to aid the government in providing humanitarian assistance in the face of damage that reportedly accounts for nine per cent of the country's GDP.
Minister of State for Finance Michael Halkitis signed the Technical Cooperation Agreement at the Second Annual IDB Caribbean Governors' Meeting in Jamaica. 
Mr Halkitis is the Bahamas Governor for the IDB.
The grant was approved on January 10, according to the bank's press statement.
According to the press statement, 1,030 homes received varying levels of damage with 10 per cent of homes listed as uninhabitable until major repairs are completed.
Cat Island and Exuma received the most extensive damage, according to the statement, in the form of flooding, structural damage to homes, downed trees and utility poles.
The statement read: "IDB's assistance will support Government efforts to provide humanitarian relief to the affected populations in the hardest hit islands.
It continued: "Based on the assessments carried out by the Government of The Bahamas, Hurricane Sandy significantly affected economic activity and caused damage to public infrastructure in the affected islands. Estimates show that the damage reached around 9 per cent of GDP (or US$702.8 million)."
The category two storm pummelled the Bahamas for three days in October, resulting in two dead, one injured and about 488 persons fleeing to shelters. Winds were up to 80mph and rainfall measured six to 12 inches.
In New Providence, sea surges caused flooding along the coast line from Junkanoo Beach to the Caves which deposited large quantities of sand on the roadways and sections of the road either caved in or were washed out.
Last week, Prime Minister Perry Christie admitted that people have not been satisfied with the government's level of assistance to those seriously affected.
He said the government was working to "get on top of" several calls for aid that have up to this point not been given adequate attention.
The grant, which includes the provision of resources and materials for transport as well as removal of debris, will be managed and administered by the National Emergency Management Agency (NEMA).
NEMA director Captain Stephen Russell could not be reached for comment yesterday.
The IDB press statement continued: "The increasing vulnerability of The Bahamas to the effects of climate change cannot be overstated and this Hurricane and the devastation which it has caused, is another reminder that much is yet to be done in building the resilience that can position The Bahamas to prepare for and handle these eventualities."